I intend to do work that will increase investment in Africa - Kamala Harris
Vice President of the United States of America, Kamala Harris in the company of second gentleman Douglass Emhoff and other US officials touched down in KIA.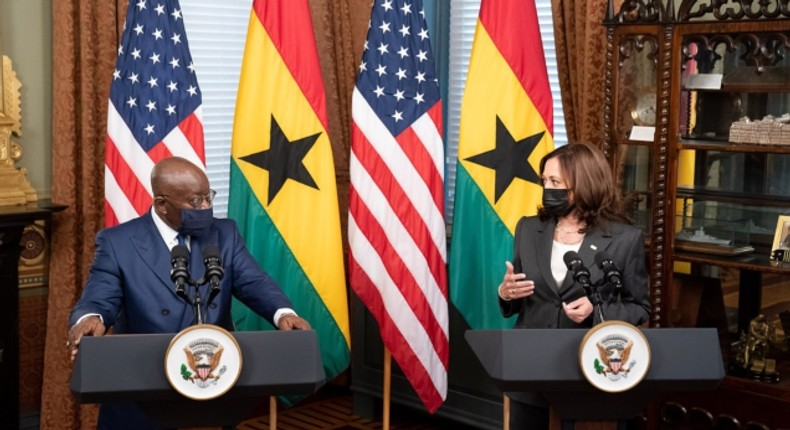 Their arrival was met by Vice President Dr. Mahamoud Bawumia amid cheers and a traditional ensemble.
Delivering her speech at the KIA, Veep Kamala Harris highlighted her devotion to holding dialogues that will strengthen and stimulate opportunities in various sectors of the continent.
In particular, on this visit, she stressed doing work that is steady on addressing climate issues and fostering good country ties.
"I intend to do work focused on boosting investment, facilitating growth, and creating opportunities touching various areas of economic empowerment of women and girls, empowerment of youth entrepreneurship, digital inclusion, and supporting work done to increase food security and adaptation to the effects of the climate crisis."
She further hinted at holding talks with H.E. Akufo Addo, Dr. Bawumia, Mahama, and second lady Samira Bawumia to build on previous discussions to strengthen democracy and good governance.
Recommended articles
Truck driver speaks about how road crashes can be stopped in Ghana
Savannah Region: 70 arrested after renewed clashes at Lukula and Mempeasem
Nogokpo traditional leaders give Agyinasare 14-day ultimatum to appear for questioning
Akufo-Addo must declare a state of emergency over Ghana's economy – Kwame Pianim
Retired teacher ordered to pay 2k fine, sheep… for trying to sleep with friend's wife
Nana Addo receives highest international diplomacy award
Let's work together for peace in Bawku — Bawumia
Mahama has the ability to tackle Ghana's economic challenges — Stan Dogbe
Let's try and co-exist peacefully – Mahama to Gonja and Mamprusi communities