John Mahama donates GHS 100,000 to Radio Gold to restart operations
Former President John Dramani Mahama has donated a sum of GHS 100,000 to defunct Radio Gold to kickstart operations.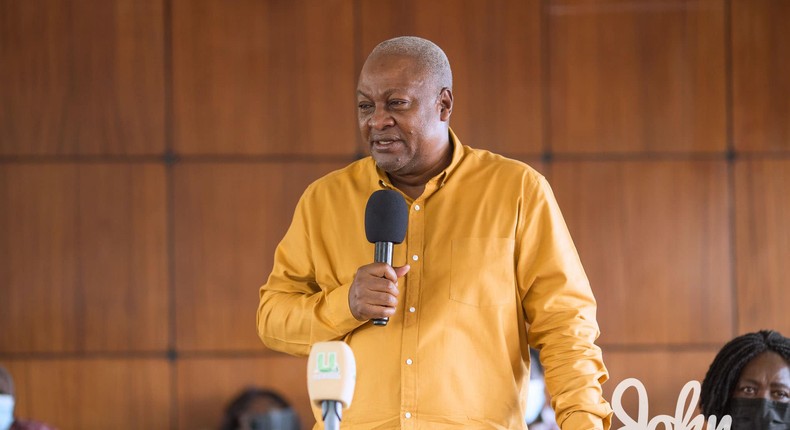 The station is set to come on air after the National Communications Authority (NCA) reinstated their license last month.
In a report by Accra based Starr FM, the donation by President Mahama was handed over to the management of the station on Wednesday, November 3.
On October 12, the NCA announced the restoration of the radio broadcasting authorizations to Radio Gold, XYZ, and 131 others.
In a statement copied to the media, the NCA said the new licenses also include that of new stations across the country.
"The Governing Board of the National Communications Authority (NCA), at a Board meeting held on 11th October 2021, approved the grant of a total of One Hundred and Thirty-Three (133) FM radio broadcasting authorizations which include new applications from entities whose FM radio stations were closed down after the 2017 FM Audit as well as existing stations which applied for renewal of their expired FM Radio broadcasting authorizations," a statement from the NCA said.
A number of radio stations including Radio Gold and XYZ were shut down by the National Communications Authority in May 2019.
The NCA explained that the closures were carried out in line with Regulations 65 (1) of the Electronic Communications Regulations, 2011, L. I. 1991, which states that "a person shall not use a radio frequency without authorisation from the Authority."
JOIN OUR PULSE COMMUNITY!
Recommended articles
NDC's philosophy is based on taxation - Asiedu Nketia
I won't change electoral laws to go beyond two terms – Akufo-Addo assures Ghanaians
The e-levy is not compulsory; just don't use MoMo – Carlos Ahenkorah to Ghanaians
WASSCE 2021: Over 1,300 subject results and 174 entire results cancelled
Police arrests V8 drivers: NPP lawmaker faces court for breaking road traffic regulations
Group to buy car for father who went viral for carrying his daughter during drivers' strike
One Teacher One Laptop deductions: We don't know All Teachers Alliance group - NAGRAT
Ghana's presidential jet has become Uber for African Heads of States – Okudzeto Ablakwa
Tamale: GH¢1.9m bus terminal left to rot after 5 years of completion