Savannah Region: 70 arrested after renewed clashes at Lukula and Mempeasem
The police have arrested about 70 suspects in connection with the renewed chieftaincy and land disputes at Lukula and Mempeasem communities in the North Gonja District of the Savannah Region.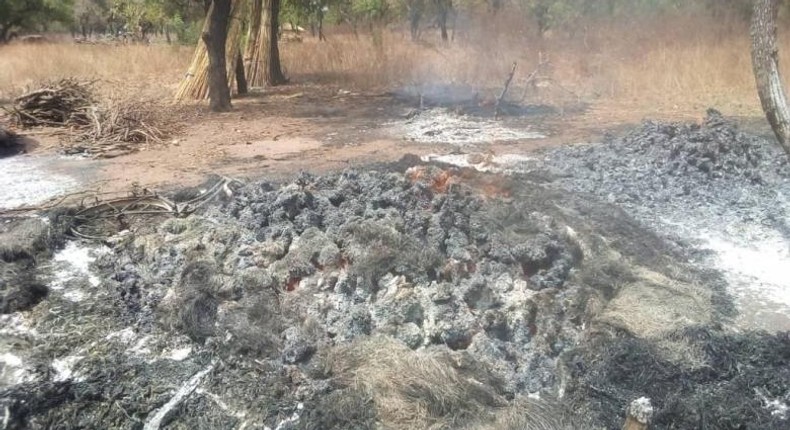 This follows a renewed clash between members of the Gonja and Mamprusi tribes.
The violence erupted after a man was shot and killed in the area.
The suspects were rounded up in a swoop conducted by security operatives at Daboya on Friday dawn upon intelligence.
The suspects are in police custody pending screening as part of investigations.
The Police in a statement said a gang numbering about 50 reportedly invaded the Mempeasem community and kidnapped a 50-year-old man.
The gang, however, fled into the bush when the Police responded to the attack.
The Police managed to rescue the kidnapped victim and retrieved one AK-47 weapon together with 14 rounds of ammunition, seven motorbikes, and two bicycles from the scene of the incident.
A search for the suspects in the area led to a further retrieval of a bag containing 240 AK-47 ammunition.
Pulse Ghana
It said on 1st June 2023, the Police, while on patrols within the communities, responded to another distress call of an attack by another gang on the Lukula community. The said suspects who were on a rampage, burning houses and shooting randomly, opened fire on the Police upon seeing them, three suspects, who sustained gunshot wounds during their arrest, are currently receiving treatment at a medical facility.
A search conducted on them led to the retrieval of one (1) pump action gun, two (2) single barrel guns, one long knife, 80 live cartridges, some talismans, and cowries
The clashes happened on Thursday, May 29, 2023, after days of tension in the community over the pending arrival of a rival from Daboya in the Wasipe Traditional Area.
The latest outbreak of violence could be traced to renewed tension between two tribal groups.
There have been violent clashes between them since the creation of the new regions.
It has been reported that there have been some casualties from the violence, and some locals of the affected areas have been fleeing to communities in the West Mamprusi municipality.
Gonjas and Mamprusis have lived together peacefully for ages and have become family through intermarriage and other social relationships.
Recommended articles
122,275 personnel for 2023/2024 deployed for service -NSS
Tensions flare as Ghanaians in London stage dueling protests over bad governance
Kufuor raises concerns over factionalism within NPP
Jean Mensa, Bossman Asare pose biggest threat to Ghana's democracy – Sam George
Election 2024: Reject Alan's empty political tactics — NDC's Afaglo
Health Ministry summons management of Korle-Bu over GH¢765 cost of dialysis
Korle-Bu to review GH¢765 cost of renal dialysis
Factionalism is dividing and killing commitment in the NPP – President Kufour
Gender equality: Stop the bias against women in the newsroom — Gifty Anti