Akufo-Addo is 'diverting' Ghana's money into the pockets of his family members - Mahama
John Dramani Mahama, flagbearer of the National Democratic Congress (NDC) has accused President Akufo-Addo of practicing a nepotistic government.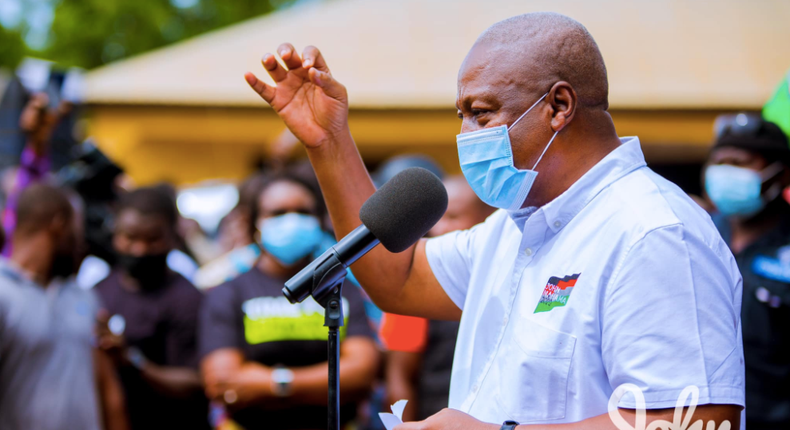 Speaking in an interview with the Multimedia group, the former president said Nana Akufo-Addo the President is practising nepotism while neglecting the interests of the ordinary Ghanaian.
"Akufo-Addo's 'economics' funnels money into his family's pockets at the expense of Ghanaians," he said.
He accused the President of creating investment opportunities for his family only.
"We have a Finance Minister who is a cousin to the President, whose interest is raising bonds and his own bank is the broker for these bonds. There is a conflict of interest.
"There's a desire to borrow more because the more he borrows, the more his bank makes money and the more he makes money too," he said.
During the interview, he dared the Akufo-Addo-led administration to provide an account of monies borrowed under the NPP's administration.
JOIN OUR PULSE COMMUNITY!
Recommended articles
NPP 2020 parliamentary candidate resigns from the party
National Cathedral will bring in millions in revenue— Ofori-Atta
It's not true that Winneba's Ramsar site has been sold for mining – Afenyo-Markin
Ghana can turn into the new Jerusalem with the National Cathedral – Ofori-Atta
YouTuber jailed for 6 months after deliberately crashing plane for views
Catholic priests should be castrated to stop paedophilia, sodomy, rape – Bridget Otoo
How Ghanaian solo armed robber, 'School Fees' entered victim's house with ladder [Video]
Aisha Huang's sentence was on crimes committed in 2015 -Deputy Attorney General
Govt releases GH¢20m to settle capitation grant arears