Chief Imam urges EC to ensure violent free elections
The National Chief Imam, Sheikh Osman Nuhu Sharubutu, has appealed to the Electoral Commission (EC) to ensure that election 2020 was free, fair, and devoid of political violence.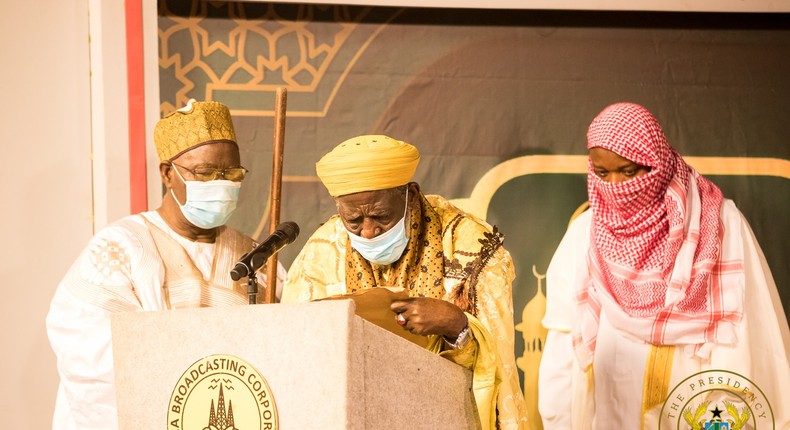 He also called on other stakeholders involved in this year's general election to work towards free and transparent elections.
According to him, all stakeholders, [political parties] must make sure that the security agencies remain fair and firm to all manner of people, irrespective of their political leanings, during and after the election period.
He made the appeal in an address read on his behalf by his spokesperson, Sheikh Aremeyaw Shaibu, at the virtual broadcast of this year's Eid al-Fitr.
He said "This year is an election year associated with so many challenges, including the COVID-19 crisis. As a faith community committed to lasting peace and harmony, we are calling on all stakeholders, particularly the Electoral Commission, to ensure a violent-free, free and fair, and transparent elections."
The Chief Imam also gave thanks and praise to Allah for His mercies, blessings, grace, and favour done to the Muslim faithful with the one-month period of undertaking the spiritual exercise of fasting during the COVID-19 pandemic.
"Your Excellency, while welcoming you to this auspicious occasion, we also would like to express our profound thanks and appreciation for your desire and interest to join us to celebrate this great event in a form never witnessed before in the annals of our history as a faith community. We are grateful to you," he added.
Recommended articles
Church of England launches project to stop referring to God as 'He', 'Him' and 'Our Father'
Ken Ofori-Atta should be chased out of office by the military – Yaw Tano
Enchi constituency: 14 persons arrested in connection with disturbances at NPP elections
University of Ghana converts plastic waste to petrol, diesel and gas
Police pushed cannabis into his throat in our absence - Shadrach's sister alleges
Ablakwa vs Kusi Boateng: NDC condemns judicial abuse and despicable efforts to gag MPs
Meet Alphonsus Adu-Bredu an NSMQ alumnus developing wild robots
You are not a preacher, you are a witchdoctor – Prophet Oduro slams Kyiri Abosom
GH₵50m worth of cannabis destroyed by NACOC