John Mahama is the reason NDC lost the last 2 general elections - Solomon Nkansah
Solomon Nkansah, a former National Communications Officer of the National Democratic Congress (NDC) has blamed the electoral woes of the party on former President John Dramani Mahama.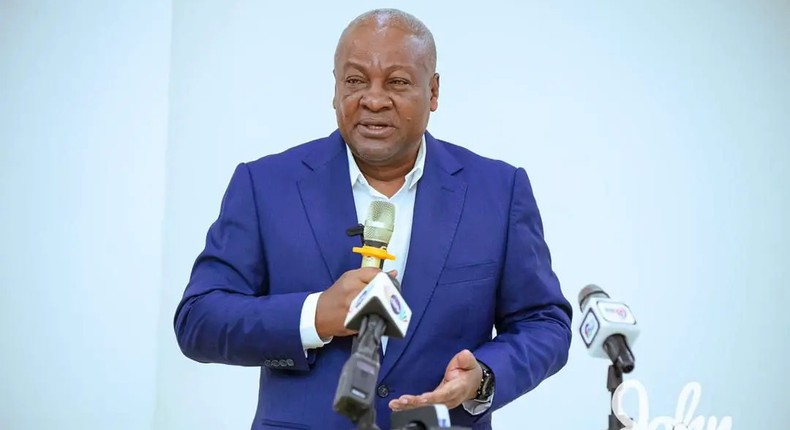 He said Mr. Mahama is to blame for the NDC losing the 2016 and 2020 general elections.
Mr. Nkansah, who is supporting Dr. Kwabena Duffuor in the flagbearership race, said the NDC will lose in 2024 if it elects John Mahama again.
According to him, the ex-president who led the NDC to two consecutive electoral defeats in the 2016 and 2020 elections has not learned any lessons from what led to the defeat and is on the same path, which will ultimately end the party in another defeat in the upcoming 2024 election.
Solomon Nkansah, speaking on the Ghana Kasa show on Kasapa 102.5FM/Agoo TV accused Mr. Mahama of taking the NDC party for granted and challenged the former leader to tell the party members what his plans are for the party.
"Mr. Mahama has not changed; he's taken the party for granted, believing that at all cost, the party members will vote for him to become flagbearer. Who told him that? When he had the opportunity to speak to party members during his campaign launch last week, he spoke to party members one percent and spoke to Ghanaians ninety-nine percent. It was a diversion because he didn't have a message for NDC members.
He added: "If it's John Mahama who'll emerge as flagbearer, then the party has a lot of work to do to win the 2024 election. This is because the grassroots members of the NDC have no hope and confidence in what will become of them if the party wins power in 2024.
"Mahama has no plan to build a strong NDC party; that's why he's unable to speak out because if he does, we'll hold him to account. Branch and constituency executives should not vote for somebody who does not show them how he plans to grow the party."
Former President John Mahama launched his campaign to become the NDC's flagbearer for the 2024 elections last week in Ho.
Recommended articles
Businesses will hardly be hit by the passage of new tax bills – GUTA
CRPL-Ghana beseech speaker Alban Bagbin to withdraw inappropriate LGBTQ+ statement
Court Restrains Joseph Yensu from Contesting Aowin NDC Primaries over Fraud Allegations
Supt. Effia Tengey exits from Ghana Police Service
I followed the rules, i did nothing unexpected - Alban Bagbin
Parliament passes three new taxes
MP for Nanton involved in accident ahead of passage of 3 new tax bills
We have to win the 2024 elections for Jerry John Rawlings – Dr. Kwabena Duffuor
Humanitarian Awards Ghana announces 100 Most Impactful 2022 Change Makers