Nana Addo noted for cutting sods than completing projects – Mahama
Former President John Mahama has urged the government to complete the numerous development projects initiated by the NDC government which have been abandoned to rot in the bush in the Eastern region.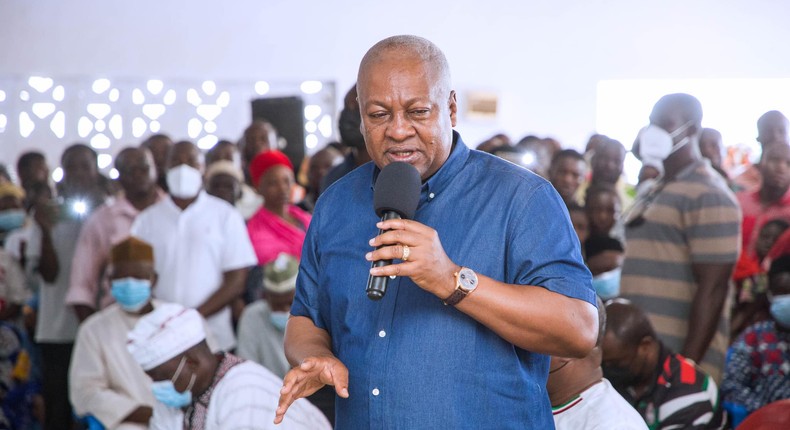 He has bemoaned the numerous social infrastructure and economic projects abandoned by President Nana Addo Dankwa Akufo-Addo.
He made this known during a courtesy call on the Eastern Regional House of Chiefs in Koforidua on Tuesday, October 12, 2021, as part of his Thank You tour.
He said "Nananom, there's a very worrying development that I cannot avoid talking about and that is the issue of abandoned projects… Governments are enjoined to continue the projects began by their predecessors."
He stated that "Unfortunately, it will appear that after 2016, the new government that came, has either advertently or inadvertently refused to work on many projects that the previous governments started and I can name so many of them: there are road projects, hospital projects, school projects…I know in my brother Kwawumanhene's jurisdiction, the famous Abetifi Hospital is crying for continuation and completion."
"If you go to other places, there are many of such hospitals that have been abandoned. I'm happy to note that the Somanya Hospital has been completed but then it needs to be operationalised as quickly as possible."
According to him, the President is focusing more attention on cutting sod for his Agenda 111 hospital projects than paying attention to the completion of several hospital projects.
"If some have been finished, at least, let them start working while you bring in the extra 111 or if some were ongoing, complete them and add the 111 hospitals. Unfortunately, it looks like there's more attention in cutting sod for the new 111 hospitals than there is for completing the hospitals that are already under construction and, so, these are things that I think we need to draw attention to," he added.
Recommended articles
Savannah Region: 70 arrested after renewed clashes at Lukula and Mempeasem
Nogokpo traditional leaders give Agyinasare 14-day ultimatum to appear for questioning
Akufo-Addo must declare a state of emergency over Ghana's economy – Kwame Pianim
Retired teacher ordered to pay 2k fine, sheep… for trying to sleep with friend's wife
Nana Addo receives highest international diplomacy award
Let's work together for peace in Bawku — Bawumia
Mahama has the ability to tackle Ghana's economic challenges — Stan Dogbe
Let's try and co-exist peacefully – Mahama to Gonja and Mamprusi communities
It's unconstitutional for chiefs to endorse political parties — Supreme Court