NDC Flagbearership Primaries: John Mahama to be vetted today
The leadership of the National Democratic Congress (NDC) will vet former President John Dramani Mahama for its flagbearership contest today.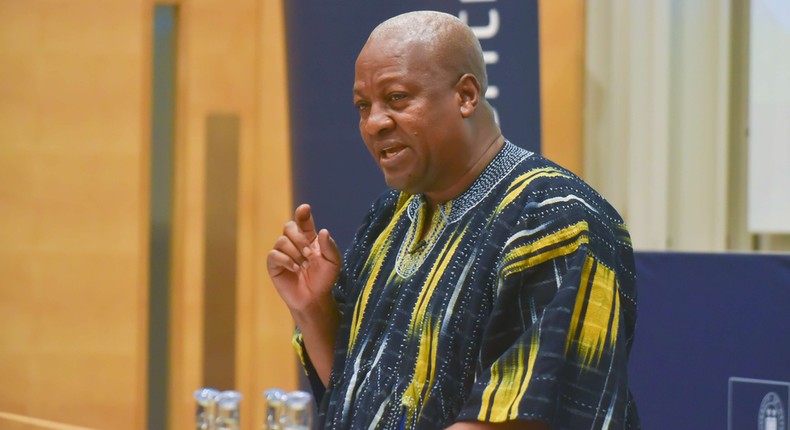 This was disclosed by the communications team of the former President.
In a recent lecture, John Mahama called for state funding of viable political parties in the country.
He said public and state funding of viable political parties will go a long way in reducing corruption in the country.
He said the Public Funding of Political Parties Bill would have to be bipartisan and inclusive in order for all issues to surrounding political party financing be covered appropriately.
This he says is to prevent the current godfather-ism that is characterising Ghana's political landscape.
Speaking during a public lecture on March 22, at UPSA auditorium in Accra, Mr. Mahama, a flagbearer hopeful of the National Democratic Congress (NDC) opined that, "on government support for political funding, some have argued that the only funding that may be advanced to parties and cannot be concealed in secrecy is public funding. This refers to government giving financial resources or indirect assistance to political parties. In the absence of such support, and given the huge cost of political activities, wealthy party financiers may take over as political godfathers who determine electoral outcomes and all that follows it".
He was also launching his JM 2024 fundraising platform to help raise funds for his presidential bid in the upcoming general elections.
Recommended articles
Agriculture can generate enough revenue to finance Ghana's debts — Dr. Akoto
Ghana excluded as Canada adds two African countries to visa-free travel list
Agyinasare vs Nogokpo: Van Calebs calls for peace
NPP elects Charles Opoku as parliamentary candidate for Assin North by-election
Some judges go to Supreme Court to secure retirement plans because SSNIT doesn't pay – Oliver
Gertrude Torkornoo: Parliament approves her nomination as Chief Justice
Ibrahim Mahama donates 500 cement bags to Presec-Legon 1998 year group
It's a fact that Nogokpo remains spiritual gateway to Ghana – Fiator Agbodzalu tells critics
Jobless man jailed 6 years for stealing lady's handbag loaded with expensive phones and 16k