Here is Miss Universe 2019's answer when asked the important thing young girls should be taught today
South Africa's Zozibini Tunzi was crowned Miss Universe 2019 on Sunday (December 8, 2019).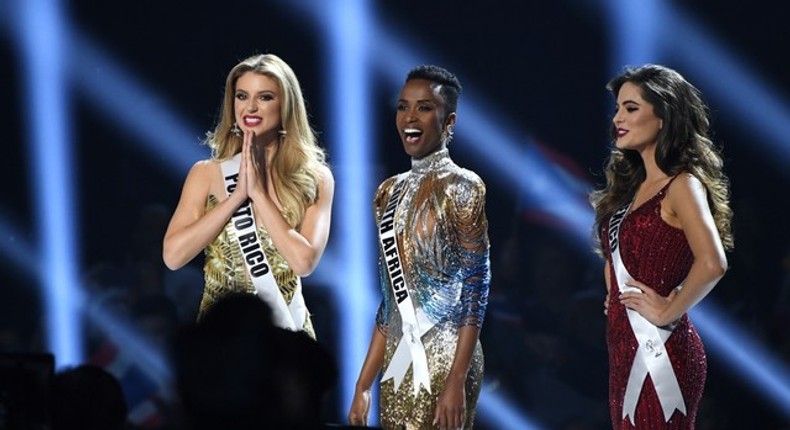 The top three contestants were from Mexico, South Africa, and Puerto Rico.
Before selecting the top three contestants answered questions on political issues such as climate change, privacy, and reproductive health.
The top 3 contestants answered a single question as well. The question was "what is the most important thing we should teach young girls today?"
Below are the responses given by all three women.
Zozibini Tunzi, South Africa
I think the most important thing we should be teaching young girls today is leadership. It's something that has been lacking in young girls and women for a very long time, not because we don't want to but because of what society has labelled women to be. I think we are the most powerful beings in the world and that we should be given every opportunity and that is what we should be teaching these young girls, to take up space, nothing is as important as taking up space in society and cementing yourself, thank you.
Steve, it's very important to teach young girls today the importance of their true value. We see so many perfection in social media, perfect lives, perfect bodies, perfect faces, perfect relationships. Nothing is that real. We have to teach them that who they are is already amazing, who they are is already worth it, because what they really are is not what it looks like, it's what they feel, what they act, and the way they react to the world. I believe a girl is worth what she has to offer to the world, way more than the way she looks. Thank you.
Madison Anderson, Puerto Rico
There's so many things that I would love to teach young girls if I have the opportunity to be the next Miss Universe, such as in a world where so many people wear masks, it's such a beautiful thing to see an authentic soul, to embrace your uniqueness, to embrace who you are. You just don't know who you can inspire just by being you, so celebrate that. Thank you.
JOIN OUR PULSE COMMUNITY!
Recommended articles
Top 10 African countries producing Palm Oil
Top 10 most ethnically diverse countries in Africa
African countries with the cheapest household electricity prices
Top 10 African cities with the highest population growth from 2022 to 2023
Top 10 happiest countries in Africa in 2023
Female tenant arrested for squeezing landlord's testicles to death over electricity bill
Here are the proposed tax measures introduced by the government
Davido reportedly spends over ₦300 million on new Lamborghini
South African rapper, Costa Titch slumps, dies on stage