Akufo-Addo clears trotros, taxis to begin loading full capacity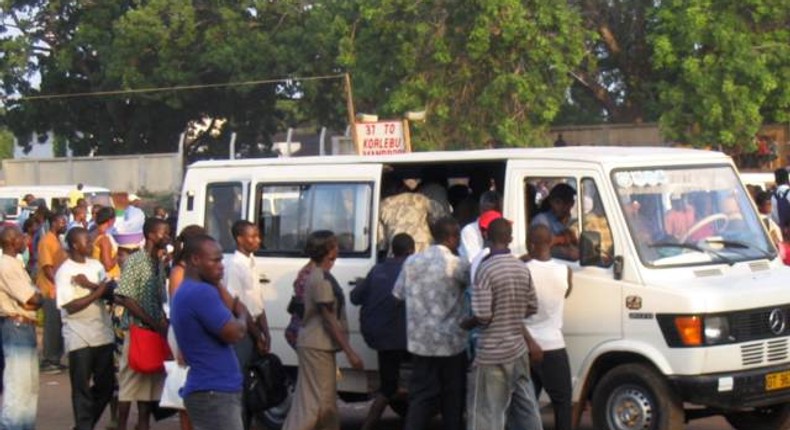 This follows the President's latest update on the easing of COVID-19 restrictions in the country.
Delivering his latest address on the pandemic on Sunday, he said taxis, trotros and domestic airlines can now load full capacity.
He, however, noted that strict safety protocols must be observed by passengers, including the mandatory wearing of face masks.
"In consultation with the Ministries of Transport and Aviation and the leadership of transport operators, Government has taken the decision to lift the restrictions in the transport sector, and allow for full capacity in our domestic airplanes, taxis, trotros and buses," Akufo-Addo said.
"The wearing of masks in vehicles and aircraft, and the maintenance of enhanced hygiene protocols, remain mandatory. Private burials, still, with a maximum of one hundred (100) persons, can continue to be performed."
Ghana's Coronavirus case count currently stands at 31,851, with the death toll also rising to 161.
President Akufo-Addo said Ghana's borders remain closed to human traffic until further notice, adding that government will continue to take steps to evacuate Ghanaians who are stranded abroad.
"Our borders, by air, land and sea, remain closed until further notice for human traffic.
"However, given that there are Ghana residents stranded abroad, special dispensation will continue to be given for the evacuation of our nationals and residents back to Ghana, where they will be subjected to the mandatory quarantine and safety protocols," he added.
Get our Top Stories delivered to your inbox
Recommended articles
After 4 decades, the world's longest-serving president is set to continue his tenure
Bitget registers in Seychelles and plans to grow its global workforce by 50%
5 female tech founders who have been making strides in the tech community
AirtelTigo introduces first eSIM service in Ghana
Tanzania and South Korea set to collaborate on startup ventures in both countries
Top five richest people in Kenya in 2022
Four reasons why you should shop at Accra Mall this Black Friday
The European Union is getting increasingly nervous over Algeria's alleged financial support of Russia
'We're disappointed' – Kumasi business owners react to 2023 budget, ask MPs to reject it