ECG investigates Comm. 8 police for "stealing" power
Leader of the ECG disconnection team who is also the Director of Customer Services,  Kwabena Authur Forson said they will investigate how the 4 block apartment had more meters than were allocated to them.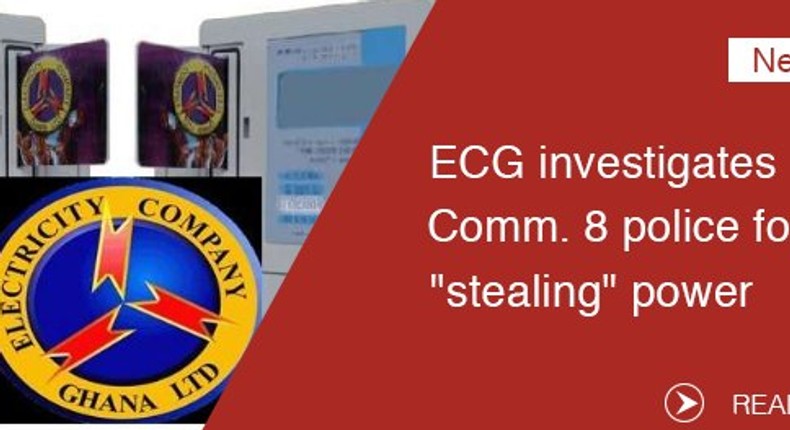 The Electricity Company of Ghana (ECG) has disconnected a Police barracks at Tema Community 8 in the Greater Accra region.
According to ECG the barracks has more meters than estimated. In addition they were using power for free.
"Usually at police barracks, we put credit meters there where we capture the consumption and later bill the accountant general for payment on behalf of the police officers, but in this case they have actually bypassed the meters, which means their consumptions are not being captured so we are going to investigate it and see if the meter was there before the police occupied the facility or otherwise" Mr. Kwabena Authur Forson said.
He said they will invite all the culprits for investigations after which they will be arraigned for a special ECG court.
"As it is now, we will serve them with notices to come to our office for further investigations after which we will process them for a special ECG court which sits only on Saturdays"
Five other houses in Tema were also disconnected for a similar offence. But most of the residents denied knowledge of any illegal connection.
Forson mentioned that since ECG has raised 31 million cedis between August and December when they started disconnecting illegal power users. The company has also realized 8.7 million Ghana cedis in the first quarter of 2016 alone for the same exercise.
JOIN OUR PULSE COMMUNITY!
Recommended articles
A/R: Police fraternity, Senior officers bid farewell to Police officer who died in fire with family
Here are ways to naturally enlarge the male organ
Court orders lady to pay $80,000 to man for dumping him after he paid her school fees
Kenya and Tanzania tear down 23 trade barriers hindering their commercial relationship
Uganda's State House allocates billions for brand new cars for the President and Vice President
Guest house boss shoots customer for complaining about malfunctioning TV
4 healthy questions to ask a new partner before having sex
Waiter almost ruined my date, he shouted 'pa pa paa' whilst another man took me out - Michy
East Africa continues to experience an impressive intra-trade growth trajectory