Baker Hughes denies abandoning injured Ghanaian engineer
Baker Hughes has retained Andrews on its payroll with non-reduced salary since the tragic incident.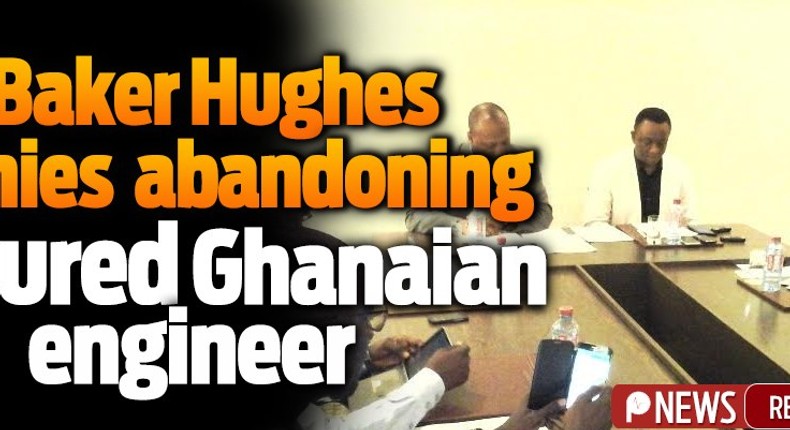 Baker Hughes denies abandoning injured Ghanaian engineer
Baker Hughes, an American oil company operating in Ghana has refuted reports that it deserted a Ghanaian engineer with the company who sustained severe injuries in a fatal motor accident that killed one person.
According to company officials, the tragic incident was caused by a third-party drunk driver who struck the stationary vehicle carrying Baker Hughes employees that injured three others, including a young Ghanaian engineer, Andrews Boateng.
The Legal and Compliance Director and Government Relations, Baker Hughes Africa, Mr Poju Adedeji, told journalists that they received reports on April 24, 2014 that the employees were involved in an accident in Port-Gentil, Gabon while returning from work.
"Reports from both the internal investigators and the police confirmed that the accident was the direct result of the actions of the third-party driver, who has since been convicted in a court of law for dangerous driving leading to manslaughter," he said.
Immediately after the accident occurred, he said the Baker Hughes crisis management team swiftly moved to provide all necessary help to the affected employees.
"In the case of Andrews, he was immediately transported by medevac to Johannesburg, South Africa…where he was attended to by a trauma surgeon at the Netcare Milpark Hospital, a level one accreditation for trauma cases," he said.
He added that right after the incident, the company immediately arranged for a primary caregiver and next-of-kin to attend to Andrews throughout the duration of recovery.
The company also provided appropriate travel and accommodation logistics for the primary caregiver's trips to South Africa, including visa issuance, air fares, hotels and car rentals while in South Africa, according to Adedeji.
He also said to guarantee uninterrupted care to the victim, costs are being provided by Baker Hughes' global risk insurance provider, who confirmed continuous medical coverage for Andrews based on recommendations of medical experts and Andrews' family's consent.
"According to our official records, Andrews is single with no primary dependants, however, we confirmed that he was the primary income earner for his mother and siblings prior to his accident," he said.
"Therefore, Baker Hughes Ghana has made gratis arrangements for his family to have on-going access to his salary account."
The company has retained Andrews on their payroll with non-reduced salary since the tragic incident, Mr Adedeji said, going beyond the requirements of the Labour Laws in Ghana.
The services and expertise of a clinical psychologist was also offered to help the family understand Andrews' requirements for on-going care and to provide emotional support for the family, he said.
According to him company officials have facilitated meetings between the family, medical experts and the insurance providers who have confirmed continued coverage of Andrews' medical care.
However, he said: "Baker Hughes Ghana does not have the authority or the power of attorney to make decisions on behalf of Andrews. This authority resides solely with his family, his primary caregiver and next-of-kin, in conjunction with the medical experts and the insurance provider.@
"We can nonetheless confirm that all decisions relating to Andrews' previous and current medical care have been discussed between the family's primary caregiver and the medical experts."
He assured employees of the company's commitment to their health and safety, saying this belief has been entrenched in the philosophy and culture of the organisation from the day we commenced activities in Ghana.
"We will continuously provide for Andrews Boateng throughout the duration of his therapeutic process," he maintained.
"Our thoughts and prayers remain with Andrews, his family and the other Baker Hughes employees and their families involved in this tragic accident."
Baker Hughes - Ghana Limited is a top-tier oilfield service company, that provides the oil and gas industry with products and services for oil drilling, formation evaluation, completion, production and reservoir consulting.
The company began operations in Ghana in 2008.
JOIN OUR PULSE COMMUNITY!
Recommended articles
Amazing transformation of 21-year-old man bullied for being born different (video)
Tiwa Savage's blackmailer leaks her bedroom tape, singer reacts (SCREENSHOT)
Sex: How long should you wait before having another round?
Video: Black Sherif goes global as players of Ligue 1 club jam to his 'second sermon'
Kuami Eugene reportedly throws plush birthday party for his house help, Mary (PHOTOS)
Funny Face leaves suicidal note for his children as Qwik Loan asks him to pay loan (SCREENSHOT)
Shatta Wale allegedly shot; P.A says he's been rushed to emergency ward
'Is he not gay?' - Social media react to Nana Tonardo kissing his 'white sugar mummy' (VIDEO)
My life is in danger and I'm on the run till this country shows me there are laws – Shatta Wale