Floyd Mayweather vs Andre Berto
Floyd Mayweather puts his WBC and WBA welterweight titles on the line in what he claims to be his farewell bout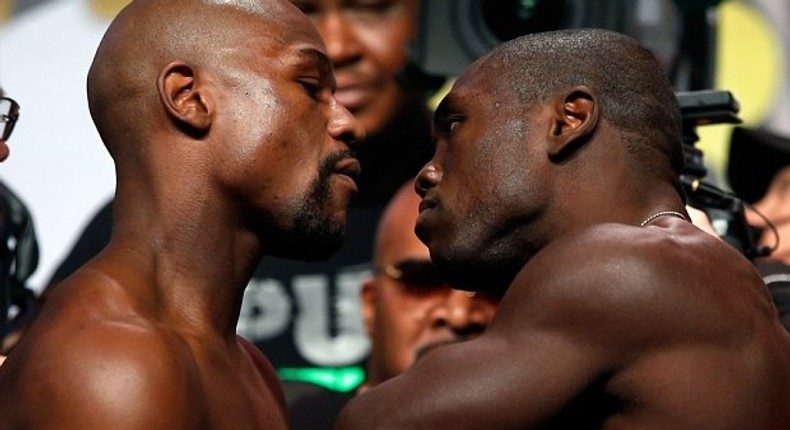 Berto gloves up and ready
All seats taken just in time for the anthem:
Berto is booed as he enters the ring.
Just as a side issue as wed await Mayweather and Berto. There was consternation at the split draw verdict from judges Feldman Clements and Jarman for the Martinez-Salido WBO Jr lightweight world title fight. No wonder. Punch stats don't always tell the whole story but Salido threw 1037 and landed 285. Martinez threw 691 and landed 189.
Mayweather already has the centre of ring, flocking out that fast jab, moving in and out, light on his feet. Berto inching forward. Mayweather doing all the work on the inside. Left hook from Mayweather gets a gasp from the now full arena. Speed, movement, already 'Money' looks on a different level to the Haitian-American.
Mayweather working Berto's left side in the clinch. Avoids Berto's grunt and punch with beautiful footwork, swaying, changing levels, or holding. Making Berto miss time and again, but landing with his jab. Berto has mini success with chopping downward right. Good right cross from Berto which lands. But will-o-the-wisp Mayweather ducks and sways out of two looping punches from Berto and is away. Mayweather is straight into the office and doing business.
Nasty little sucker punch from Mayweather to start the round. Berto getting into range a little more now. Still missing though. May weather lands glancing left hook, then a jab. May Mayweather ducks under a punch and always crawls touching down with his gloves. Slip. Berto managed to rough Mayweather up a little more in that round, but barely landed clean or with any precision.
Mayweather's reflexes and timing for a 38-year-old are incredible, and even when he does get caught he knows how to move and hold so brilliantly. He locks up perfectly.
Left right hooks from Mayweather. Berto looked in trouble momentarily, but then fires back at Mayweather on the ropes. His face is etched with intent - and frustration - at the same time.
Berto trying to bully Mayweather on the inside in the clinch. Mayweather landing as much, and more. Frustrated, Berto goes low. Warning from referee Kenny Bayless. Even though Berto pressing every second of every round, never taking a backward step, Lil Floyd is dominating inside, in counters, with the jab, and at mid-range. He just makes boxing look so easy. Like a jazz dance.
The most offensive round of the fight so far from Floyd. A punishing three punch combination - left, right,left - at the start of the round, an uppercut down the middle, a series of hard body shots as they tie up, and a looping right which hits the top of Berto's head which looks as if it has momentarily wobbled the underdog. Berry has letting attack at the end of the round, and landed a left during it, but that was the most emphatic round so far fro the man approaching 49-0.
Is the tide beginning to turn?
Berto managed to engage Mayweather in a couple of exchanges in that round, and he may have won the session. The pattern of the fight is slowly changing. But it could be too late, having given away so many rounds already.
If Mayweather is the best ever (TBE), he needs to press the action now.
Great fighters of the past - Leonard, Robinson et al - would be looking for a knockout against a willing, but limited opponent like Berto.
Time to step on the gas, Floyd!
It's a technical masterclass from Money May at the moment. There's a gulf in skill between these two.
Even under pressure on the ropes, Floyd looks very calm.
Berto is talking some trash to his opponent, but Floyd is winning the argument with his fists. Another round to Floyd.
Mayweather lands a great uppercut on the inside as they tie up on the ropes. Then, in the centre of the ring, they engage from distance. Mayweather is the one who lands.
Curious moment in round 10, with the ref stopping the action to insist the two fighters end their trash-talking.
Berto is still pressing the action, but this looks like another easy pay day for Mayweather.
Even at 38, he is lightening quick, proving too elusive for Berto.
Mayweather picking single punches now, and very effectively. Like the left punch, the left upper cut, and when he gets tired of that allows Berto to advance and spins away like a magician. He then wants to entertain the crowd, clearly, riskily exchanging in the middle of the ring after a shuffle.
Mayweather leads fight, 108-101
Almost too easy for Mayweather!
Without pushing himself to the limits of his talent, Floyd has eased to another victory at the MGM. Not everyone is impressed, however, as a few boos ring around the arena.
The scorecards to come...
JOIN OUR PULSE COMMUNITY!
Recommended articles
Akrobeto goes global again as Borussia Dortmund uses his video to announce next match
REPORT: Medikal arrested for brandishing a gun on social media (VIDEO)
How to ask for sex from your spouse
Ghanaian artiste commits suicide after 'friend' said 'kill yourself' on his post
Video: Black Sherif goes global as players of Ligue 1 club jam to his 'second sermon'
Bukom Banku to become Ghana's highest paid home-based boxer after GHc 600,000 paycheck
Shocker as Funny Face speaks from police cells with message to Shatta Wale (WATCH)
Sex: How long should you wait before having another round?
Ibrah One drops shocking doom prophecy about Sarkodie and Tracy (SCREENSHOT)