We can meet Supreme Court's deadline - EC
"It is a complete deception for anyone to claim that the EC cannot compile a credible list of voters who registered using the NHIS card as a form of identification," a statement from the Commission said.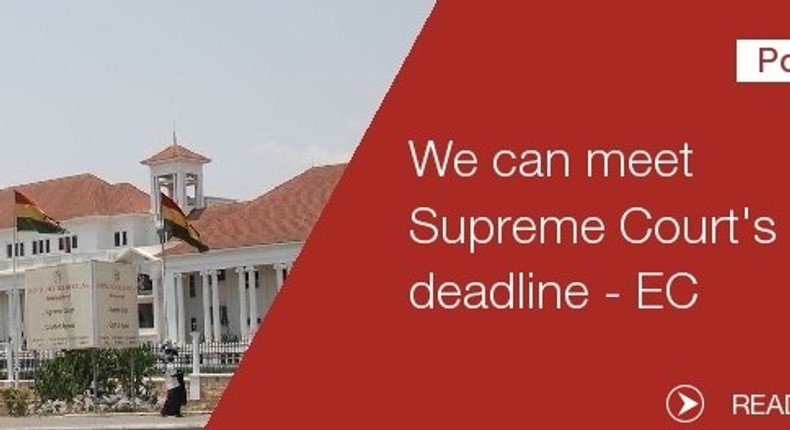 The Electoral Commission has dismissed claims that it will not be able to meet the Supreme Court's six-day ultimatum.
After the Supreme Court ruling last Thursday, the Coalition of Domestic Election Observers (CODEO) indicated that the EC may not be able to furnish the Supreme Court with the full list of the NHIS registrants within six days.
According to CODEO, the Commission does not have all the documents in its database for it to be able to fully determine all those who registered using NHIS cards, for subsequent deletion.
However, the EC is insisting that "it is also false for anyone to claim that the EC cannot comply with the orders of the Supreme Court."
The statement asked, "where lies the difficulty or impossibility when the EC has the primary registration document (Form 1As)? The Commission will fully satisfy the request of the Apex Court."
Meanwhile, the Editor-In-Chief of the New Crusading Guide newspaper, Abdul Kwaku Baako has expressed concern about news emerging that the Electoral Commission (EC) may be unable to produce the list of persons who registered to vote with their National Health Insurance Scheme (NHIS) cards as directed by the Supreme Court.
"I am getting worried; I am getting frightened to hear of the possibility that the EC doesn't have persons who registered with their NHIS cards on their data base. That is worrying! That is frightening," he said on Accra-based Joy FM.
Last Thursday, the Supreme Court issued a six-day ultimatum to the EC to furnish the court with the list of persons who registered with their NHIS identity cards.
The apex court also ordered the EC to indicate in writing, the modalities it intends to use in removing the names of those persons from the voters' register.
However, it is being speculated that the EC may not be able to beat the six-day deadline because it does not have the list of persons who registered with NHIS cards.
Contributing to a panel discussion on Joy FM, Kwaku Baako was of the view that based on the record of proceedings before the Supreme Court, it is evident that "we are dealing with a gargantuan challenge; a big matter."
According to him, "it is not 10, 15 people who registered with it; it's not some 100,000 people; it's massive, it's a big job so why all this dilly dallying, protracted transition towards a solution that we could have reached years ago?"
The ace journalist said the issues and debates surrounding the credibility of the voters register and the posturing of the EC is "very disappointing."
JOIN OUR PULSE COMMUNITY!
Recommended articles
Court orders lady to pay $80,000 to man for dumping him after he paid her school fees
Actress Benedicta Gafah ties the knot
Guest house boss shoots customer for complaining about malfunctioning TV
10 trending kente styles that took over the 'gram in January
German firm invests Sh350 million in Kenya to make the country a leading distributor of its product
East Africa continues to experience an impressive intra-trade growth trajectory
CHAN 2022: Ghana awarded 3 points, 3 goals due to Morocco pull-out
Missing twins saga: 37 Military Hospital apologises to couple …claims scans were incorrect
Police arrest 34 prostitutes in Tema, court grants each one GHC5k bail