Abeiku Santana shares transcript of UGBS Master's programme, scores 11As and 2Bs
Popular Ghanaian tv personality, Gilbert Aggrey, popularly known as Abeiku Santana, graduated over the weekend with another Master's degree.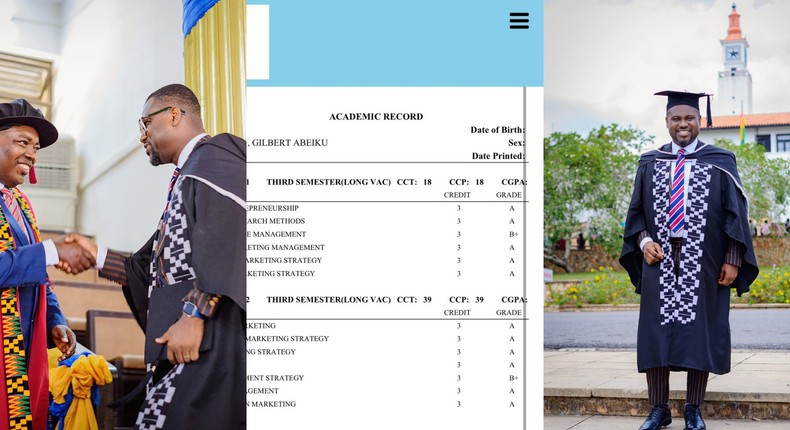 The presenter bagged a Master's degree from the University of Ghana Business School in Marketing Strategy.
Following his graduation, Abeiku shared his transcript proving the hard work that he invested in his education.
While earning eleven As and two Bs, the seasoned broadcaster captioned his post, "An investment in knowledge pays the best interest. - Benjamin Franklin"
His post has hence sparked reactions from netizens.
During his studies at the UGBS, Abeiku Santana continued the trajectory of developing a keen interest in the hospitality industry and its dynamic nature. He conducted a research study on service quality and hotel performance post-COVID-19, which has garnered significant attention. His research aimed to explore how service quality affects the performance of hotels in the wake of the COVID-19 pandemic, a pertinent issue in the hospitality industry.
In addition to his Master's degree in Marketing Strategy from the University of Ghana Business School, Abeiku Santana also holds a Master's degree in Tourism and Hospitality Management from the University of Cape Coast and a Postgraduate Diploma in Public Administration from GIMPA.
Santana's education in both marketing and hospitality management has given him a unique perspective on the hospitality industry, allowing him to approach challenges with a holistic viewpoint. Recently, the University of Cape Coast honoured Santana for his role in promoting the institution on various platforms. This recognition is a testament to his dedication to his profession and his commitment to advancing the hospitality industry.
Santana's Master's degree in hospitality management has given him a deep understanding of the hospitality industry's intricacies, including operations management, service quality, and customer experience. His education, coupled with his extensive experience in marketing and entrepreneurship, has positioned him as a thought leader in the industry. This milestone, coupled with his extensive experience, has equipped him with a unique skill set, making him a valuable asset to the hospitality and marketing industry.
The ace media practitioner, speaking on the sidelines of the graduation, was elated about his latest milestone and expressed gratitude to all who aided in the successful completion of the program.
Recommended articles
No need for record label if you have money —Epixode
Ghanaians are fortunate to have you - Fella praises Medikal, says he's best rapper ever
You can't build a house in East Legon on an actor's salary- Ekow Smith Asante
Medikal left me for Fella Makafui but I'm still his 'trophy' – Sister Derby tells critics
Yankee Beatz releases his debut single 'Bestie'
Mr Eazi to go bullish on tech investment as he visits Estonia
Tina Turner's husband to inherit half of her fortune for donating his kidney to her
Nigerian RnB star Rukmani releases new single titled 'So Fine'
Tyrone Marghuy: Achimota school adds controversial rasta student to its NSMQ squad