Shatta Wale vows to deal with Bulldog if...
"Don't mind him; he (Bulldog) is a fool! If they try to worry you, I will worry them seriously," Shatta Wale vows.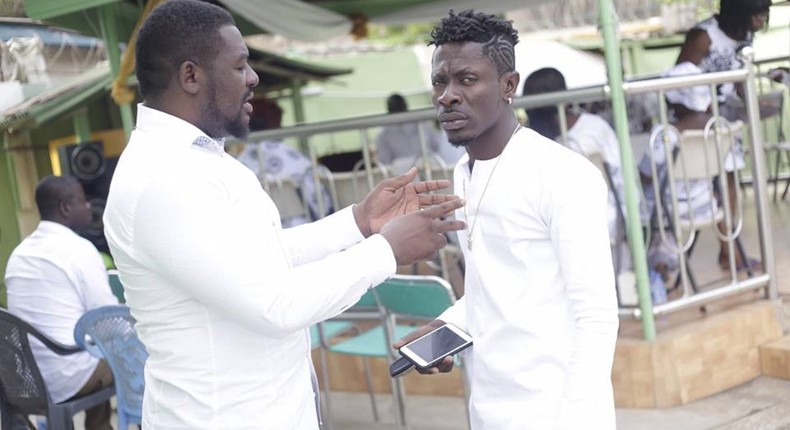 When we all thought the dust has settled on
The audio which was leaked today (Feb. 18) was a phone conversation between the Dancehall musician and a girl perceived to be Shatta Wale's friend.
During the conversation, the "Kaikai" singer threw more shades at his former manager and business partner, Bulldog, saying that he never benefited financially from his former label but rather, they benefited from him. He further stated that, if Bulldog and his Bullhaus Entertaiment made any attempt to harass the girl he was chatting with on phone, he 'will worry them'.
"When they say negative things about me, I just watch them and keep quite because none of them (Bullhaus Entertainment label management members) has put GHC 1.00 on my table. I make the money and share with them like we made it together," Shatta Wale claimed.
"Everybody Bulldog knows is through me because he has no links (connections). Whenever he (Bulldog) goes to America, I buy him tickets because he can't afford. He has been bothering me all the time to travel with him," Shatta added.
Touching on his reaction should his former label attempt to worry the girl in question, Shatta Wale insulted Bulldog and fumed "Don't mind him; he (Bulldog) is a fool! If they try to worry you, I will worry them seriously."
Meanwhile, Mr. Kendrick Yehowada Meek – Bullhaus Entertainment label C.E.O has written an open advice to Shatta Wale after listening to the phone conversation.
He wrote on Facebook today (unscripted);
"It hurts to love people yet they wanna plan evil on innocent people. Where did I go wrong:???
OPEN ADVISE TO SHATTA WALE
Allow me jog your UNGRATEFUL MEMORY with a few of these past events.
1. Before you came to Bullhaus Entertainment, you drove a 2003 white corolla
2. You did not even have a Togo stamp in your passport and was living at Lonzy's house in Nima.
3. We paid and shot "Dancehall King" video together with our partner SOLID MULTIMEDIA, your very first professional visual in your entire career.
4. We lobbied and brokered your first ever professional international gig to London
5. We together with our partners Solid Multimedia and 4Syte TV flew you on your first ever south African trip to shoot two free videos for you "Real Hustler" and "Inna Di Party ft. DBlack"
5. We introduced our partners Boogie Down Nima, we planned and executed your very first American Tour.
6. We introduced you to mainstream media in Ghana and beyond, resulting to every award you have decorated your hall with and boast of today.
7. Bullhaus Entertainment was an award winning management outfit before you joined us, we were still managing award winning artistes like VIP and Natural Face, and had managed award winning artiste like 5Five and Iwan.
8. You had no brand whatsoever when you came begging us to manage you.
You had no commercial value and awards when you came to us, there's a lot more i can share but these are few of the "unprofessional" services we rendered for you.
We left in good faith but it seems you still have evil intentions for us and it's evident in the audio below, this is just one of a series of audios we have in our possession.
Our advise to you is to stay in you lane and keep working and maintaining the value we added to your career with the management team we introduced you to, working for you.
Leave us in peace and stop plotting against us. Plotting rape against me and "I will worry them" is not artistry, channel your energy into the second chance we gave you at your profession.
Listen to the full audio below.
Recommended articles
10 funny videos of Ahoufe, Tupac's Ghanaian lookalike whose death is breaking the internet
Gospel musician Ryan Ofei sings open the heavens on limitless worship: Accra
Ahoufe confirmed dead; death of Ghanaian TikToker goes global over Tupac comparison
Assurance secured, Davido confirms marriage to Chioma
Yul Edochie loses first son with May, Kambili
I am proud of Nana Tornado, we are still friends, Mzbel proves haters wrong [WATCH]
Omotola recounts teenage pregnancy as son picks her up from airport [WATCH]
Shatta Wale writes letter to Tinubu; accepts him as his father over lookalike comments
Getting married to one person doesn't seem normal to me, I won't do it - Wanlov