Cardi B in Ghana: The adventure of slay queens gone wild, a professional rapper and a rare Nigeria win
ACCRA, GHANA: Grammy Awards-winning rapper Cardi B visited Ghana on her Year of Return. The story that unfolded fits a perfect episode of an unadulterated drama in a parody dubbed: Cardi B in Ghana: The Real SlayQueens of GH.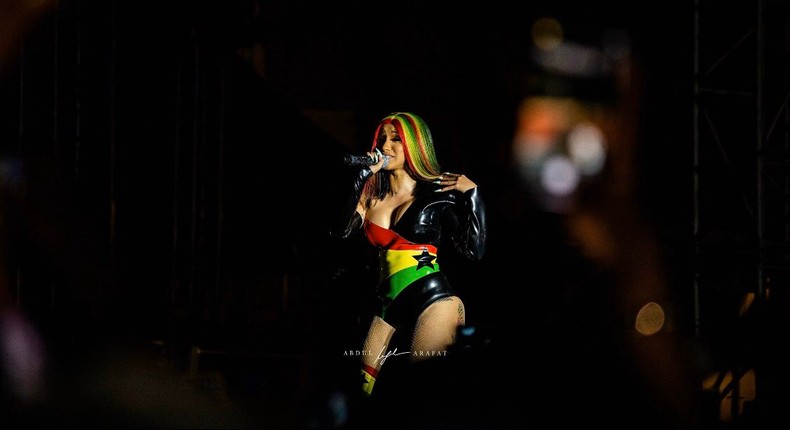 Glass clinkers echoed around the ballroom at the Kempinski Hotel Gold Coast City Accra. A quick glance across the room showed Ghana's socially rich and famous.
The mood in the room screamed delight. Being handpicked among 30 million Ghanaians to meet a Grammy Awards-winning musician seemed a special treat, at least for the moment and Ghana's Year of Return.
At the same time, American rapper Cardi B was in Nigeria getting ready to set off to Ghana. Her time in Ghana's sister country, Nigeria had been one that was amazingly awesome.
NI-GE-RRRIAA, as she liked to stress, was a place Cardi B wanted to explore right from the start. Her way of talking coupled with a lot of 'fucks' and 'bitches' immediately stood out on her Instagram story as she asked for freedom to feel the African country with a population of 190 million.
She did explore Nigeria in various ways. A photo of Cardi B posing at the Ajose Adeogun-Eko Hotel Roundabout in Victoria Island instantly went viral as she continued her way of promoting Nigeria to the world.
From that point, it was a mixture of fun at the club with various Nigerian celebrities to visiting the Motherless Babies Home where she made some donations.
Knowing Cardi B, unintentional humour was nothing short during her visit to Nigeria. Nigerian social media went into a frenzy as the rapper posted a video of her fucked up after drinking just a glass of Nigerian beer.
One could sense an intense joy in her voice as she went about her tasks in Nigeria sharing her awe in seeing how Lagos was active at dawn (maybe a little drunk).
For all that had happened in Nigeria, the anticipation was high in Ghana as the chosen ones waited to 'MEET and GREET' Cardi B upon her arrival to the motherland.
"Alright! On my way to Ghana. Y'all niggas better turn the fuck up!," Cardi B announced her mission statement ahead of a trip to the formerly known Gold Coast.
Pulse Ghana
Back at the Kempinski Hotel Gold City Accra, Ghanaian celebrities and some media personalities who were around were already turning the meet to a party. People were dancing for the cameras, a few hi and hello here and there, and what people usually do at a meet and greet.
In all of these, Efia Odo and Moesha Buduong's art of not standing each other due to differences that have escalated in the past found itself to be the giant elephant in the room. Well, aside from the combined egos of people in the room as will be revealed in a later outcome.
Now since you're wondering who Efia and Moesha are, here's a quick introduction to who the Real Slay Queens of GH. (This will be outlined in order of prominence in this story).
Afia Schwarzenegger is the one whose true description is not fit for publishing. True followers have Cardi B already know the name and person from the few videos she did in relation to the American rapper. The least said about her, the better.
Pulse Ghana
Akuapem Poloo is the one with a clean heart and an honest look at what popularity in Ghana is. Since her break agianst the odds to be one of Ghana's famous people on the internet, Poloo has been ridiculed for many of her acts and the personal choices of going to the extreme. However, the social media sensation has stayed her true self, being the goofy one she has always been.
Pulse Ghana
Efia Odo is the one cool person people hate to love. A free-spirited being whose lifestyle choices have caused a lot of stir around the country. Staying true to herself has been a hallmark despite occasionally losing it amidst all the unwanted attention for her deeds.
Pulse Ghana
Moesha Buduong might have passed through a few headlines for people who are avid followers of Christiane Amanpour. Her comment in that interview with Amanpour tells a lot about her. Cool for all the fame and fun. Not good with handling the backlash so she most probably stays in her lane. However, she's shown how heavily uninterested she is with things concerning Efia Odo. Call it a celebrity beef and it will perfectly fit.
ece-auto-gen
Wendy Shay is a Ghanaian musician. A very controversial character whose controversies are usually triggered by her management team. She acts tough but is calm in nature. One of the most worried Ghanaian celebrities on social media.
Pulse Ghana
Sandra Ankobiah: lawyer, TV host, entrepreneur and a philanthropist. She is, according to her Instagram posts a traveller of the world. Sandra is not an average Ghanaian loudmouth on the internet but she is up there with the trend makers.
Pulse Ghana
Lydia Forson is that celebrity who will put you right even if it means being politically incorrect. An award-winning actress who is not afraid of controversy.
Pulse Ghana
Hajia4Real is a Ghanaian socialite and fashion influencer. Not the loud person on social media but commands a lot of respect in the entertainment industry.
Pulse Ghana
Victoria Lebene has the clout to get invited. That's all about it. Ow yes, and her wedding was a star-studded one.
Pulse Ghana
Becca is a top Ghanaian musician with a later revelation as the one who invited all the celebrities.
ece-auto-gen
Taking a quick glance through the list of characters involved in Cardi B's Ghana trip mishap, here are all the dramatic moments that rocked the American rapper's hours spent in Ghana.
The start of the drama
Pulse Ghana
Cardi B sits at the poolside of Ghana's most luxurious hotel adorned in the colours red, gold and green in apparel that depicts Kente. Wrapped around her head is a cool scarf with a touch of Africa.
In her left hand is a kebab.
With the swagger of introducing Ghana to her fans on Instagram stories, Cardi B glows in her sunglasses as she looks into the camera.
"Welcome to Ghana bitches!"
She then aesthetically pops the top of her kebab, throws it behind her and takes a bite as a Cardi B would.
This was just the beginning. Cardi B didn't know.
Downstairs at the same hotel, a host of Ghanaian celebrities were getting agitated after waiting for so long. Among them was the very vocal Afia Schwarzenegger leading the 'mutiny' against all the initial arrangements these celebrities had with respect to Cardi B's meet and greet.
Afia Schwarzenegger holds a drink in her hand as she walks in the midst of popular Ghanaian bloggers. Wearing her Fendi dress (social media thinks it's fake), she tries to convince people to leave the hotel. Her Chanel bag as disclosed on radio, later on, is not seen in this shot.
She admonishes people around to leave the hotel with the aim of Cardi B coming down to meet empty seats among other claims that can't be published. Afia discloses she has had intel Cardi B will be made to see them at 8:30pm.
Struggling to get people on her side, Afia Schwarzenegger tells how she's not showing up for the show.
SlayVengers
Pulse Ghana
While all this is going on, Ghana's social media is starting to get heated with a term SlayVengers, a term derived from the combination of 'SlayQueens' and the popular Marvels superhero film 'Avengers'.
A video with a host of Ghanaian celebrities making their way to the Kempinski Hotel Gold Coast City Accra is making round with the best of comments.
In what looks like the perfect TV commercial to advertise Ghana's very own social media queens, Moesha Buduong, Victoria Lebene, Efia Odo, Sandra Ankobia, Salma Mumin, Lydia Forson, Becca and Hajia4Real take majestic steps and smile for the camera as bloggers give them the needed attention.
For a moment, the chosen ones to meet Cardi B were the real superstars.
Just like any gathering, there are classes. And for the conversation that was gaining traction on social media, Akuapem Poloo's name had popped up loud.
Ghanaians felt she wasn't worthy to meet the American rapper based on certain traits shown in previous acts. People felt she would send her 'village acts' to meet Cardi B and a video that broke in the early hours of their adventure at the hotel made matters worse.
Akuapem Poloo was seen dancing without a routine on the floors of the hotel where the gathering was taking. The facial expression on Afia Schwarzenegger's face in one of the angles of those videos screamed 'embarassed'. Yeah, that was right. Afia Schwarzenegger felt Akuapem Poloo will be the weakest link in the team when it comes to embarrassing Ghana. Literally a LMAO moment.
The first real jab
In all of these, the Ghanaian celebrities were being professional. However, the heat on social media was getting the attention and a lot more people were joining the trend to troll.
For a country where classism on social media is a real deal, people do not miss on a chance to laugh at the mightily exposed on social media.
As a normal reaction, these celebrities started to drop out with a PR plan to keep the image and prestige that they so much love to sustain. Some would pick the no comment option as the very popular Moesha Buduong did.
But Afia Schwarzenegger does not know how to go mild.
Pulse Ghana
In a video that started with a simple explanation of what had transpired before the celebrities were spotted at the hotel, Afia quickly switched and did what she does best: insult mode.
"We've been sitting here. And she's chewing kebab. The next thing is 'Cardi B will be available 8:30 pm'," Afia states to bloggers.
"Do you know how much my time cost. I go to a 40-minute wedding and take GHc10,000 equivalent to $2000.
"I should sit here and wait for Cardi B? The cheap, talentless, fameless celebrities need it. They can do it. I am Queen Afia Schwarzenegger."
A series of insults that can't be published follows.
This does not end her. From recordings by bloggers, Afia shifts the conversation to her social media timeline where she has control.
A 'hostile' reception
Cardi B's joy in Nigeria was very genuine. This was a lady who was herself in all her dealings. People feel one Ghanaian -maybe more - were hostile to Cardi B and there is video evidence.
In an Instagram live video, Afia Schwarzenegger starts to list the celebrities that were around to meet the American rapper. Having talked about time wasted for being there, an evidently bitter Ghanaian TV does what most Ghanaians feels is the most embarrassing part of Cardi B's visit to Ghana.
Afia talks about how a dirty Cardi B did not even change her clothes moving from Nigeria to Ghana, and a lot of personal hygiene insults.
She went on to take a dig at people who had bought tickets for the show, insult bloggers and reporters who made the call to invite her. Her last dig at Cardi was to call her a 'cocaine junky'.
"Cardi B does not respect Ghanaians. She just ignored everyone and went to her room," Afia Schwarzenegger said calling the other celebrities who were at the hotel 'cheap'.
A calmer video of Hajia4Real followed the disgraceful behaviour Afia had shown on her Instagram page. She narrated how she was invited but Cardi B did not show up only to find her chewing kebab at the poolside of her hotel.
"I am a fan. That's why I agreed to be here but I was treated anyhow," a 'hurt and disappointed' Hajia4Real disclosed in the video.
Videos from the celebrities who were supposed to be at the 'meet and greet' kept popping up. Celebrity blogger Ameyaw Debrah and Victoria Lebene went viral across various social media platforms in Ghana.
Wendy Shay, a popular musician in Ghana had been at the hotel for the grand wait of Cardi B. In a strategically orchestrated tweet knowing how the management of Shay love controversies, the award-winning musician wrote:
"So you guys called us to come and have a one on one lunch date with @iamcardib and she has been chewing khebab for 7 hours in her room without showing up.
"What do you guys take Ghana celebrities for?! This can never happen in Nigeria.
"She is Cardi B and I am WENDY SHAY!"
Social media immediately felt her post was laughable without any disrespect whatsoever. This is Cardi B we're talking about her. Arguably a rapper who surpassed the super talented Nicki Minaj with her Grammy Awards win.
By this time, every post on Ghana's social media had something about American rapper Cardi B.
For a trip that was supposed to reignite Ghana's hospitable pedigree established across the globe, the reception given Cardi B was hostile.
No one deserves to be in a country for the first time and find out on social media how bad they had acted, without having an idea about the bad they did.
Giving the Cardi B-ullets
Cardi B is not your typical musicians who is afraid to face her trolls. The moment the America rapper realized she was the topic of discussion in Ghana, she went straight to her social media to address the topic.
What started as a mild explanation of her side of the story quickly escalated to shades and hitting back at those who were attacking her – with a lot of fucks and bitches of course.
Pulse Ghana
"These Ghanaians were coming at me. They said I was trying to act Hollywood. No, my stomach fucked up," Cardi B said in her response after finding out what some Ghanaians had to say about her.
She explained she didn't know what she ate or drunk but had a stomach upset. She was not cancelling people.
A dramatic Cardi B recorded the video while literally taking a sh!t.
The American rapper then made time to see celebrities and fans who were still around at the hotel where she was asked some questions and received some gifts.
The Meet & Greet
Pulse Ghana
An animated Cardi B walks into a room full of some celebrities, fans and the media. Ghanaian musician Becca is introduced as the 'biggest female superstar in Ghana' to lead discussions.
Roars of 'wooow' as a hypeman asks the crowd to make some noise of Cardi B. What will follow will be an interesting display of how fun Cardi B can be when in her zone.
Despite Akuapem Poloo receiving backlash for who she is and has been, she defied all trolls to stay put until the end.
When the Ghanaian social media sensation had the chance to interact with Cardi B, she requested a twerk challenge which the award-winning musician effortlessly enjoyed.
Lying on the floors of the Kempinski Hotel Gold Coast City is a Grammy award-winning musician with the 'cornerstone Ghana had fervently rejected' ahead of Cardi B's trip. However, that little moment was one where Cardi genuinely looked alive during her hours spent in the West African Country, Ghana.
Cardi B would go on to show fun in Ghana at a later time on her Instagram page. The rapper posted 'Take me back to Africa' 'Missing Nigeria' and the next thing that followed was not 'Missing Ghana' but a photo of Akuapem Poloo whom Cardi B claimed was her twin sister.
There was a gifting session before Cardi B had to leave and prepare for her show at the Accra Sports Stadium.
The show at the Accra Sports Stadium
Pulse Ghana
The Livespot X Festival concert is not one that will rank among the best events in Ghana in 2019. Having made fans to wait at Ghana's biggest football stadium with the proposed start time of the event was uncouth.
Topics about poor segregation of regular and VIP ticket holders, literally dark moments from lights going off on the main stage and the poor planning that saw a lot of the advertised top artiste in Ghana not performing at the show.
Pulse Ghana
Cardi B, one of the few positive highlights of the show, however, went along with the task at hand to does what she does best, entertain.
Trying to replicate the fun she had in Nigeria, Cardi B led by Becca went Twist Night Club for the afterparty. Videos from the Nigeria night club experience still tops Ghana, a reason the musician may have missed President Muhammadu Buhari's country after going back home.
Cardi's B-it on her experience
News had got to Nigeria that Ghanaians were not handling Cardi B in their country well. Knowing the forced rivalry between the two countries, the best of memes to troll Ghana started to come from Nigeria.
The creativity in these posts is sometimes overwhelmingly amazing. For once, this was not ignited by the popular Jollof rice.
Cardi B had to tell her side of the whole story having been very patient and professional in of the this.
Adorned in a white bathrobe and a towel wrapped nicely around her head as a scarf with a touch of Ghanaian in one of the gifts she had received during the 'meet & greet' Cardi sat in front of her camera in one of her most consistent activities in Africa.
"First things first, right, I asked my booking agent: do I have a meet and greet today? And he said no. A meet and greet wasn't in my contract. I didn't know I had a mother****ing meet and greet today.
"I know I had one in Nigeria and I showed up on time. When I woke up, I went down at 3 pm to soak some sun in the pool and my stomach started hurting. That was around 3 pm.
Pulse Ghana
"Then I woke up to see this rage going on on social media and everybody's like you have to do a meet and greet. And I saw a lot of my fans in the meet and greet. And I said I don't care if it's not in my contract, I'm going downstairs.
"I guess a lot of artiste were upset because they got invited and I wasn't there. For that I apologize but then again that wasn't my fault," Cardi B explained her side of the story.
Cardi B then switched to address the celebrities who saw her at the poolside, acted 'stosh', did not say a word only to go on social media and rant.
On a topic that has not been very much discussed but witnessed by people at the concert, Cardi B addressed how uncomfortable she was with the stage lights going off before her performance but did it because she was already in Ghana and stayed true to her task.
With this video blowing up on social media, Nigerians felt they had for once won over Ghana and started another Twitter war with the hashtag #GhanavrsNaija which would later develop into #GhanavrsNigeria.
Pulse Ghana
For the first time in a very long time, Cardi B had given Nigeria a win they didn't ask for and probably didn't deserve. An artiste outside of Africa had visited the two countries and seemed to be liking the green and white side of town than the red, gold and green side.
A win for Ghana music was when she listened to Kwesi Arthur during her live update.
The celebrity vs wannabe-rity jokes
Pulse Ghana
If you had a friend among the people who had made the 'wait of shame' at the Kempinski Hotel Gold Coast City Accra, it was difficult getting involved in the only conversation going on in Ghana.
But John Dumelo is the troll that gets trolled so is not afraid to troll the more. He created one of the best puns around the situation at that instance; replacing the meet in the 'meet and greet' with 'meat' in reference to Cardi B's kebab extravaganza.
A video will later pop up of former Ghana Black Stars captain Asamoah Gyan and ex-Chelsea player Michael Essien taking a dig at celebrity status in Ghana on the lighter side.
One of the countries most popular cartoonist, Tilapia Da Cartoonist created the perfect depiction of what had happened during Cardi B's visit to Ghana fronted by the celebrities' comparison "You can't do this in Naija".
Ghana vs Naija
Hours after Cardi B had left Ghana, trails of her impression in Ghana and Nigeria lingered on. A very popular and regular Twitter battle was resurfaced.
Loving Ghana, loving Africa
Pulse Ghana
Cardi B showed a lot of love to Ghana, Nigeria and Africa. For the country's Year of Return campaign led by her president, His Excellency Nana Addo Dankwa Akufo-Addo, a visit from an American award-winning musician was a welcomed idea despite a 'little dilemma' as the rapper puts it.
Her outfit, her commitment and the love showed to Ghanaians during her performance amidst trying moments will put her in the hearts of many Ghanaians or the few that went to see her show.
Recommended articles
She paid my fees, woke me up to learn, Abeiku Santana thanks wife [VIDEO]
Abeiku Santana shares transcript of UGBS Master's programme, scores 11As and 2Bs
Video: Medikal shows off GHc700K necklace
You are a witch if you don't like Dr Bawumia - Afia Schwarzenegger (VIDEO)
Shatta Wale gifts actor Ras Nene a car
Abeiku Santana bags another Master's from University of Ghana Business School
Low female representation in VGMA nomination - Eno Barony displeased
MUSIGA schedules August 8 for elections
Stonebwoy makes an appearance at the Copper Box Arena to watch London Lions Vs Newcastle Eagles