Ebony Reigns: A tribute to a young lady whose only crime was sinning differently
This is a tribute to the late Ghanaian musician Ebony Reigns. Rest in peace. You will definitely be missed.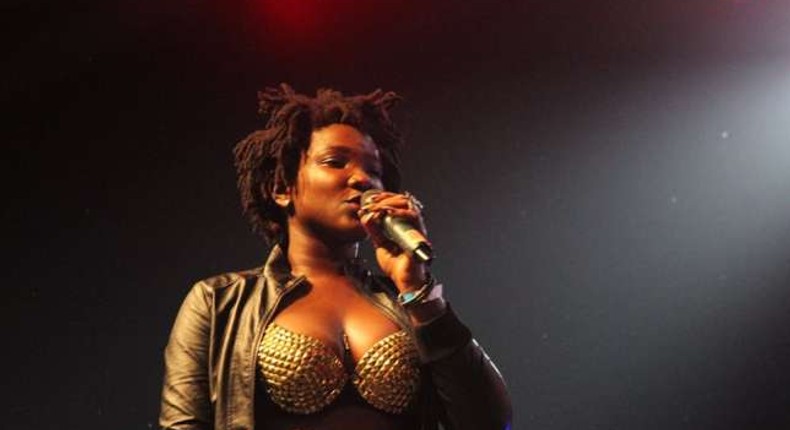 I hate you so much right now! I hate you so much right now!!!
One day, we will all know.
This young lady walked into my newsroom as a nobody. Nobody in the sense that those hits you're hearing now hadn't been that popular yet.
Ebony walks in adorned in some stripes of yellow, white, black and blue fitting dress. She looks shy. She looks calm. But also someone willing to take charge of her own success.
Small giggles echo around the office when she says hi and heads toward her interview seat at the back gate. The question of who David Mawuli was trying to make a national hit was the reason for the giggles and not anything about the female musician.
It has happened over and over again; where we see them once and once it is.
But also, there had been a few exceptions like the Mr Eazi one; where after a series of in-house jokes relating to how David sat lonely with some guy on the bamboo seats in Pulse Ghana's lawns, that guy actually turned out to be the Mr Eazi you know.
However, no one knew a few months on, Ebony was going to take Ghana music by storm.
Following a series of petty niggles on why our office AC had to go off and not interfere with the sound quality of Ebony's interview, the 'Poison' hitmaker talked about how happy she was to be doing music, her early life, family and bowed out.
It was only a matter of time before we all saw we were wrong. Ebony was going to be a hit.
Airwaves
Hearing Ebony's songs on the airwaves screamed talent. Within a few months of Ebony's 'Poison' blowing up, her name was on the lips of many Ghanaians.
Fast forward to the later parts of 2017 and songs like Sponsor, Kupe, Aseda, Date Ur Fada, Hustle and Maame Hw3 were almost directly proportional any DJ having a very good show.
It was no surprise that when the shows were booked in December 2017, Ebony was on the bill for almost every one of them.
One does not get to the stage Ebony Reigns got to without some form of hard work.
Watching her perform at some shows depicted a young lady worn out but willing to see through the hustle to make an impact. Take a look back at her Afrochella performance to see a tired young lady, who wasn't ready to give up.
The VGMA Prediction
ece-auto-gen
It was no brainer that Ebony Reigns was going to be a major competitor for Artiste of the Year award at the 2018 Ghana Music Awards.
The conversation had already started. And that was also only a matter of time.
But death just got one over time.
Sinning Different
Aside from all the jams to Ebony's songs, there was a different debate going on concerning the Ghanaian musician: EBONY'S DRESSING AND LIFESTYLE!
Priscilla Opoku-Kwarteng created a controversial twist to her brand with the way she dressed, a topic that had been discussed over and over to the extent of people wanting the police to intervene.
It's not a matter of justification whatsoever. However, for everyone who knows the definition of what sin is, the hypocrisy was sometimes overwhelming.
But of course, when death finally comes calling, the trends change, the sadness sinks in and the tributes flow.
So yeah, Ebony Reigns is being mourned. This time around, the talk is not about her lifestyle which didn't fit, or how she could have inspired the youth to lead lives with 'good morals', how she needed to reach out to a prophet for her conviction or how her dressing did not impact the right way in the society.
It'll just be about the death of Ebony Reigns and how sad it is. Just that.
Here's a tribute to a young lady whose only crime was sinning differently.
So when they continued asking him, he lifted up himself, and said unto them, He that is without sin among you, let him first cast a stone at her.
The Death Story
Ghanaian musician Ebony Reigns passed away on Thursday, February 8, 2018.
The 20-year-old's death happened in a car accident on the Sunyani-Kumasi road. According to COP Ken Yeboah, the Ashanti Regional Police Commander, Ebony the accident happened around 11 pm with two other passengers (Franky Kuri and a soldier) dying alongside Ebony. The driver is however reported to be in a critical condition.
Get our Top Stories delivered to your inbox
Recommended articles
Is Mohammed Kudus single? - Efia Odo asks after Black Stars win over South Korea
'Ati Zigi is better than De Gea' - Fans praise Black Stars keeper for sterling performance
Thank you Ghana Black Stars- Ghanaian celebrities react to Black Stars dramatic win
Some artists are refusing to feature on my songs – Smallgod
Mr Drew sets Mallam on fire with Sarkodie, Stonebwoy, Shatta Wale and others at Seleey concert
Watching Mohammed Kudus reminds me of my playing days as a footballer – TeePhlow
Music is my therapy – Fameye
Empress Gifty consoles husband as gov't allegedly sacks him from his job for supporting Alan Cash
Kojo Jones earns PhD from Switzerland, says it must impact lives [Photos]