Funny Face's baby mama blasts fan for saying she's putting her kids at risk (VIDEO)
The baby mama of comedian Funny Face, Vanessa continues to give people enough reasons to suggest that she doesn't care about the predicament of the father of her children.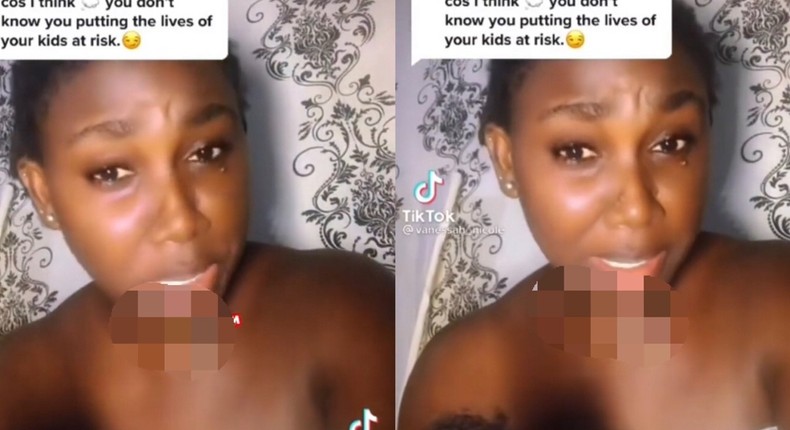 Vanessa lost her cool on Tiktok when a follower told her she's putting the lives of her children in danger.
The TikTok user with the handle 'abenaambless' wrote on one of her videos: " I really hate what you are doing because you know you are putting the lives of your kids at risk."
Vanessa angrily responded to the comment, saying the user's opinion does not matter and for matter, she should keep it and not say them under her posts.
She adds that neither is the user her parents nor any of her relatives.
"You hate what I'm doing, are you my mother? Are you my father? Are you related to me? Do you know me? And who cares what you think? Do you matter to me or my children? Do your thoughts matter in my life? Shut! You think it's your business? And don't come under my post to tell me your thoughts. Keep your thoughts. Whatever you think, let it be in your head. Don't spit it out. I beg you," she fired.
Vanessa has been in the middle of the trial times of Funny Face. She portrays a character of the unconcerned about what the depression Funny Face is going through.
Funny Face has always accused Vanessa of fueling whatsoever happening to him.
He recently in a video he shared on Instagram, lamented about how Venessa is extorting money from him. She uses their infant children as a tool to blackmail him.
Funny Face is currently facing a trial for threatening the lives of some individuals in the country. He has been reportedly diagnosed with bipolar.
JOIN OUR PULSE COMMUNITY!
Recommended articles
Randy Abbey drops exclusive information about Jackie Appiah's luxurious mansion (WATCH)
This is why Chadwick Boseman's estate will be split between wife and parents
Tourism Minister Dr. Ibrahim Mohammed Awal Honoured by Mediterranean Tourism Foundation
I named my daughter after you because you made me - Korkor Afia Schwarzenegger to Delay
Afia Schwarzenegger tearfully thanks Delay for helping her pay rent and more (WATCH)
African female artistes are about to 'show the world how it's done' – Tems
Comparing me to Jackie Appiah shows that I'm blessed
Afia Schwarzenegger shares videos and pictures of her Santorini vacation
Stop attributing people's success to sakawa, drugs and ashawo – Nana Aba