Fuse ODG out to expose police mistreatment of Blacks following racial profiling incident
Ghanaian singer Fuse ODG has spoken about his ordeal after he was arrested and harassed by the Met Police who claimed they could smell cannabis from his car a few days ago.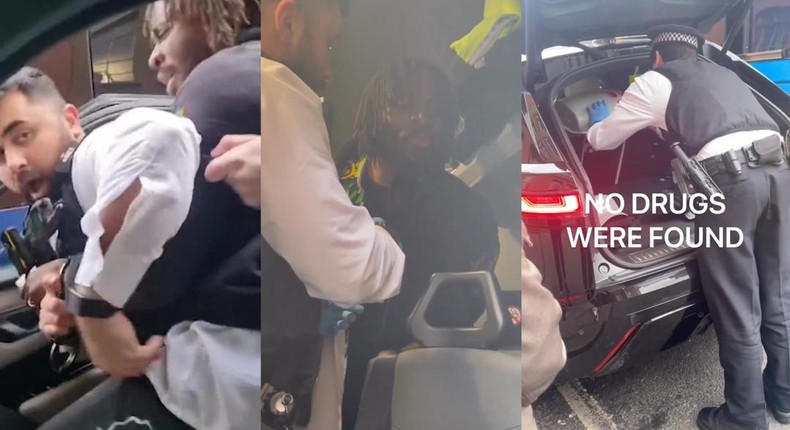 According to him, he was racially profiled by the four officers in Brixton.
Fuse ODG made headlines on May 19, 2023, when he shared a video of him being violently handcuffed and dragged out of his car by some UK police in Brixton who claimed they could smell 'cannabis' from his car.
In the said video, the officers had stopped and encircled Fuse ODG's car, alleging to have detected the scent of cannabis and expressing their intention to search the vehicle for illicit drugs.
Disregarding Fuse ODG's insistence on seeing their search warrant, the musician who was in the company of his manager Andre Hackett was forcibly detained in handcuffs and compelled to board a bus, where he sought clarification regarding the unjust treatment he had endured.
"It's wild that this is the normal reality for too many of us growing up in this country. But even wilder is that this is still the reality in a post-George Floyd world," BBC quotes Fuse ODG to have said.
"In the past months, we have seen so many videos of police officers beating up and even kneeling on our black children in the UK. I know because a lot of the time they come to me for help.
"The sad reality is that as a black man living in this system, it doesn't matter how much money you make or the positive impact that you have on the world, they still only see you as one thing."
However, in the turn of events, the singer has released a song titled IC3. The official music video of the four-minute song captured the UK-based Ghanaian musician and other blacks singing about the incident while highlighting IC3 – "A British Police code for identifying a black person".
Fuse ODG has also filed a formal complaint to the police and awaits results.
Recommended articles
Suspect arrested in 1996 Tupac Shakur shooting death
I won't succumb to indecency to sell my music – Adina
'Manifest is a better rapper than Sarkodie' – Samini
I probably would have been an occult if I hadn't met Bullet – Wendy Shay reveals
Abena Korkor and Shatta Wale share kiss at Medikal's album listening [VIDEO]
Sister Deborah stuns in African Garments at Paris Fashion Week 2023
iMullar Sound System: All you need to know about the thriving music and fashion community
Kuami Eugene speaks on criticism of his fashion choices, says he has family to feed
'It's too early to complain over credit of songs' - Sleeky tells Kuami Eugene