Actors spark romance rumors
Jake Gyllenhaal and Dakota Johnson may have something going on between them other than just being friends.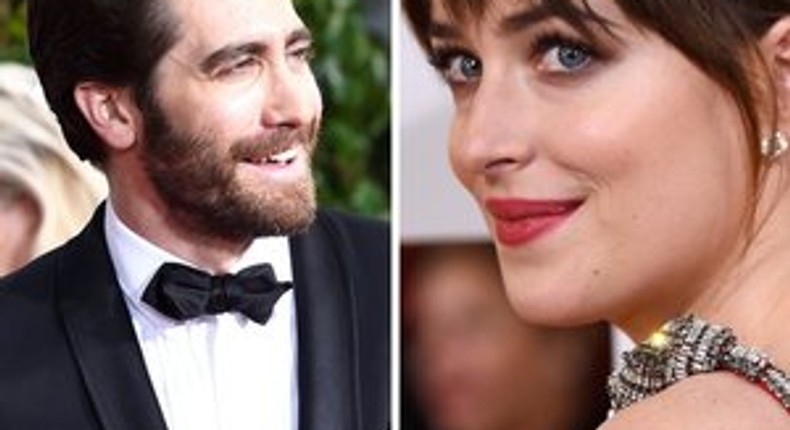 The movie stars spotted sharing the same table at an exclusive Los Angeles nightclub last week but reportedly left through separate exits
Back in April the 'Night Crawler' actor claimed he was single and the 'Fifty Shades of Grey' actress recently split from her longtime boyfriend, Matthew Hitt. So, there's nothing preventing them from hooking up.
An eyewitness told RadarOnline: ''Jake and Dakota were accompanied at their table by different people throughout the night — including the owner of the bar [that's] so inaccessible to the public that it doesn't even have a name. They left the venue through separate exits, Johnson out the front and Gyllenhaal via a back door.''
The source added that both stars kept ''glancing back at each other as if they were getting away with something."
The pair were romantically linked briefly in 2011, and the Oscar nominee, 34, has reportedly been pining for the Fifty Shades of Grey starlet, 25, ever since — even sending her flowers.
Do you think Jake and Dakota would make a great couple? Tell us what you think below
Recommended articles
Gospel musician Ryan Ofei sings open the heavens on limitless worship: Accra
Ahoufe confirmed dead; death of Ghanaian TikToker goes global over Tupac comparison
Assurance secured, Davido confirms marriage to Chioma
Yul Edochie loses first son with May, Kambili
I am proud of Nana Tornado, we are still friends, Mzbel proves haters wrong [WATCH]
Omotola recounts teenage pregnancy as son picks her up from airport [WATCH]
Shatta Wale writes letter to Tinubu; accepts him as his father over lookalike comments
Getting married to one person doesn't seem normal to me, I won't do it - Wanlov
Stop listening to secular songs if you are a true Christian - Moses OK