No make-up photo of Hajia Bintu shocks netizens (PHOTO)
Ghanaian Tiktok star Hajia Bintu has been absent from social media for some time now for reasons best known to her.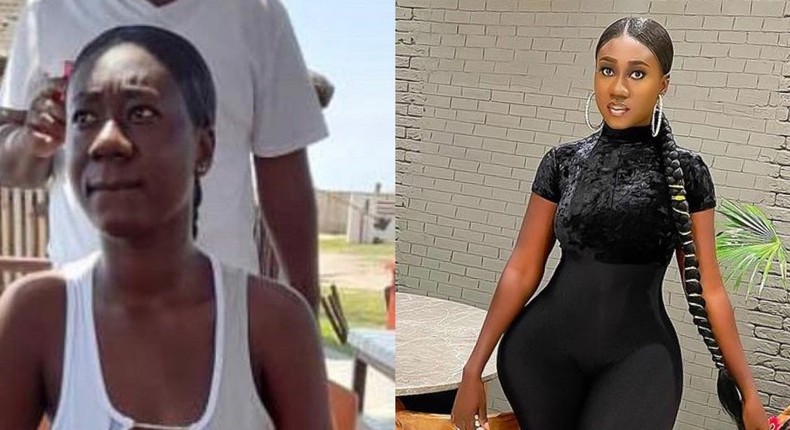 Surprisingly, Hajia Bintu is back on social medi, but this time, without her usual heavy make-up.
The video vixen looked so different and unrecognised in her latest photo as she sat down comfortably at the Krokrobite beach in Accra.
It is now a thing that female celebrities around the world usually take photos without make-up and proudly share them with their followers.
However, in Hajia Bintu's case, it was different. She didn't post her photo.
An IG blogger leaked the photo with the caption: "Instagram vs Reality. …..our heavily endowed Hajia Bintu was seen at Kokrobite without any sign of pregnancy (that Kokonsa na nu y3 false alarm ) Hajia Bintu kafra wai and continue to slay effortlessly."
Social media users look a bit surprised to see Hajia Bintu in her natural look without polishing.
Instagram user Travon Simeon said, " The two pictures clearly show you. 1. Social media life 2. Real Life.".
Joe Way added, " Eii is that really her? So all along it was make-up and filters".
Afia Face commented, "Eii I thought she is not well oo."
Charles Yiadom said, "I know her in real life, she is more beautiful than doing make-up, trust me."
JOIN OUR PULSE COMMUNITY!
Recommended articles
After 30 years, Michael Blackson finally acquires U.S. citizenship (PHOTOS)
"Always try to get enough sleep" - Knii Lante advises
Ayisha Modi goes naked on IG as she flaunts her newly 'acquired' body (VIDEO)
2022 Grammy nominations: Ghana's Stonebwoy receives 3 Grammy credits
R2Bees give reasons they don't grant interviews
Flyboy Geesus drops two surprise singles; "Otedola" and "Come Over"
Nana Ama McBrown wants her daughter to speak better English than Nana Aba Anamoah (WATCH)
'I wake up and pray that some morons will insult me on radio' - EL replies Mr Logic
Joshua Dwomoh's debut album "After God's Own Heart'' is here