Actor's son threatens to hurt Howard Stern on Twitter
24-year-old Chet Haze claims the famed DJ has moked his rapping skills for over 4 years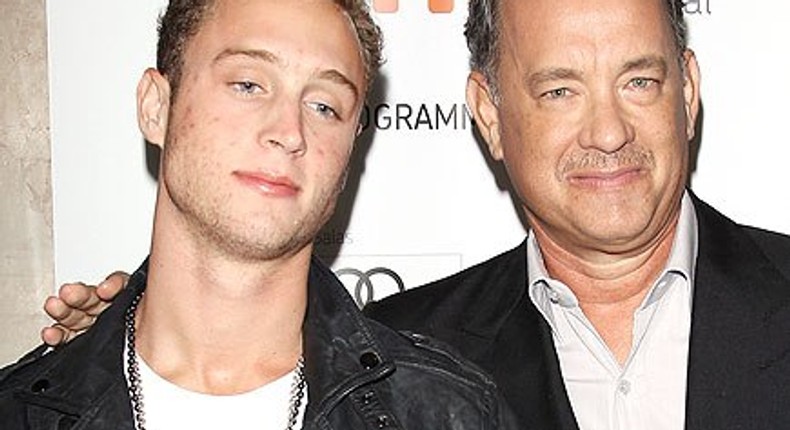 The 24-year-old rising rapper claims the 'America's Got Talent' judge has continued to mock his attempt at rap music since attending the Northwestern University in 2011.
In fact, over the last four years, Howard often made fun of Chet's attempt to portray himself as a "gangsta from the hood," reports RadarOnline.
After years of silence, things changed after a March 24 interview between Howard and fellow Sirius XM DJ, Rude Jude.
During this interview, both DJs also laughed at Chet's tough guy, gangster-rap mannerisms while pointing out that — yes, he grew up in luxury as the son of one of Hollywood's biggest legends.
Chet (real name Chester M. Hanks) responded with a series of obscenity and threats of violence, unleashing a firestorm of tweets at Howard such as:
@ Howie... Do you have any idea how badly I am going to assault you when I see you... You can't run from me forever knock knees.
@ I don't gotta be a gangsta or from the hood to whoop your sickly ass... You been frail and weakly ya whole life!
@ I know you got security old man I'll just intellectual debate with you and show the world you're really just a dried up hater.
@ let me come up on your show bitch... Come catch this fade.
Get our Top Stories delivered to your inbox
Recommended articles
People mistake me for Nigerian but I enjoy the attention - Camidoh
He has been a great inspiration to me- Akwaboah gives Sarkodie his flowers
They fought honourably – Anne-Sophie Avé on Ghana and Portugal's match
Waka Waka to Ghana Black Stars - Here are iconic songs to enjoy during the World Cup on Audiomack
Homemade bleaching creams and their negative side effect
'Odo Kakra sika Kakra' singer says he didn't make money from music because of love
'It's sad and shameful to take off Kudus at a crucial time' - Nana Aba schools Otto Addo
'Shame on you, that penalty was cheap' - Habiba Sinare calls out Ronaldo and FIFA
Tony Amani's new single 'Melody' with Sarah Tobi is a beauty to behold