Top 10 highest-grossing Nollywood films of all time
The numbers show that 2022 was a great year for Nigerian movies at the box office.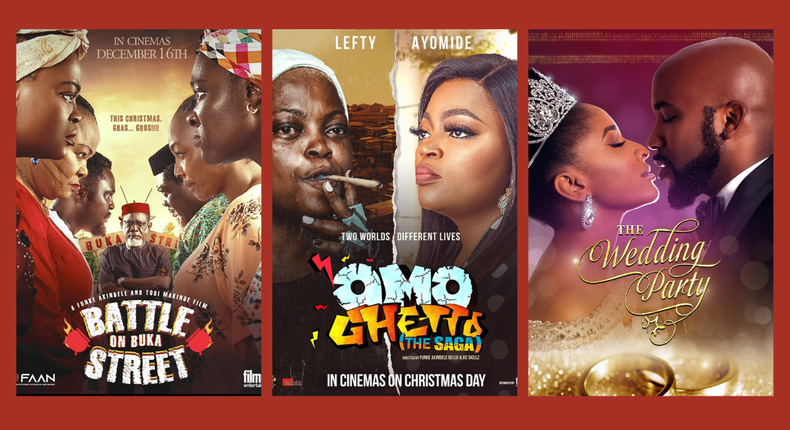 This title was previously held by her 2020 release 'Omo Ghetto: The Saga', which raked in N636 million.
With this new record, we take a look at the top 10 highest-grossing Nollywood movies of all time:
'Battle on Buka Street' - N640M
Data from the Cinema Exhibitors Association of Nigeria (CEAN) shows that the comedy-drama earned N646,532,267 and counting after spending only nine weeks in theatres.
The 2022 release follows the story of two half-sisters who have been rivals for a while. Their rivalry intensifies when they both set up their food businesses on the same street.
Directed by Akindele and Tobi Makinde, the cast includes Akindele, Mercy Johnson, Nkem Owoh, Sola Sobowale, Kelvin Ikeduba, and Tina Mba.
'Omo Ghetto: The Saga' - N636,129,120
This comedy follows the chaotic life of Shalewa aka Lefty (Funke Akindele). Lefty struggles between living a life of wealth and comfort provided by her adopted mother or returning to her ghetto lifestyle.
Released on December 25, 2020, the movie is a sequel to the actress's 2010 trilogy 'Omo Ghetto' based on twin sisters who get displaced at birth. It is directed by Akindele and her ex-husband, JJC Skillz.
'The Wedding Party' - N452,288,605
Released in December 2016, Kemi Adetiba's rom-com stayed on top as the highest-grossing Nollywood movie for four years until 'Omo Ghetto: The Saga' came along.
Made by Ebonylife Films, FilmOne, Inkblot Production and Koga Studios, it stood out for having the right amount of romance and comedy as the movie showed the hilarious drama that comes with pulling off a big wedding.
Starring celebrity couple, Adesua Etomi and Banky Wellington, the movie was both a local and international success. It continues to stay high on this list, despite being released almost seven years ago.
'The Wedding Party 2' - N433,197,377
Following the success of the first movie, Ebonylife Films, FilmOne, Inkblot Production and Koga Studios tried to recreate the same magic.
With Niyi Akinmolayan at the helm, the sequel delivered a bigger party set in Nigeria and Dubai, with a British and Nigerian couple.
'Chief Daddy' - N387,540,749
Within three days, it sold over N40 million worth of movie tickets and a total of N115.7 million in the first ten days of release.
At the time, it was the second-highest opening weekend for a Nollywood film in 2018 and the third-highest opening weekend ever for a Nollywood film.
Directed by Niyi Akinmolayan, the movie is based on the dysfunctional family of Chief Daddy, a polygamist and philanthropist. Upon his death, his children struggle to get a fair share of their inheritance.
'Brotherhood' - N328,881,12
Produced by Jade Osiberu and directed by Ugandan director, Loukman Ali, the movie opened with N53.23 million. 'Brotherhood' went on to make N118.50 million in the second week, N177.67 million in the third week and crossed the N200 million bar by the fourth week.
The blockbuster tells the story of twin brothers who find themselves in opposite directions of the law after the tragic death of their parents when they were young. One becomes a police officer while the second becomes an armed robber. The former has to hunt down the latter and bring him to justice.
It features Folarin Falana, Tobi Bakre, Sam Dede, Boma Akpore, Toni Tones, Zubby Micheal, and Mr Macaroni.
'King of Thieves (Ogundabede)' - N320,805,150
Last year, this epic thriller stood out for raking in the big bucks despite being an indigenous title. It set a new record as the highest non-English title and the biggest domestic grosser for last year.
The movie opened with over N42 million within the first three days. 27 days later, the movie earned N249 million in ticket sales.
Produced by Euphoria 360 and Anthill Studios, the movie is an epic tale of the Kingdom of Ajeromi, terrorized by a band of thieves led by an all-powerful bandit named Ageshinkole. Concerned by his pillaging, the kingdom moves to destroy him, through the hunters, witches, and priests.
Led by Odunlade Adekola, the cast includes Femi Adebayo, Adebayo Salami, Joke Muyiwa, Toyin Abraham, and Lateef Adedimeji.
'Sugar Rush' - N287,053,270
This 2019 comedy used to be the fifth highest-grossing Nollywood movie of all time.
It is directed by Kayode Kasum and produced by GreOH Media, Jungle Filmworks and Empire Mates Entertainment.
Released on Christmas day, the heist comedy stars Adesua Etomi, Bisola Aiyeola and Bimbo Ademoye. The sequel is currently in post-production.
'Ijakumo: The Born Again Stripper' - N271,926,634
Opening with N30.44 million in its first three days, the movie quickly made N88.28 million within seven days. The movie crossed the N100 million mark in 10 days.
It raked in N192.79 million in its third weekend and crossed the N200 million mark by the third week. 'Ijakumo' is currently in fifth place after 'Avatar: The Way of Water.'
With this non-comedy hit movie, Toyin Abraham has proven that she is a bankable filmmaker who has what it takes to get people in seats regardless of what she makes.
The movie tells the story of a wealthy and flamboyant pastor who begins an affair with his church's worship leader after finding out that she's his favourite stripper. What follows is an interesting journey.
Written by Anthony Kehinde Joseph, it stars Toyin Abraham, Kunle Remi, Bimbo Akintola, Olumide Owuru, Lolade Okusanya, Debbie Shokoya, and Antar Laniyan.
'Christmas in Miami' - N265,583,000
This 2021 release made N60.38 million in its opening weekend, then over N100 million within the first week of release.
Directed by Robert O. Peters, this comedy series continues the fun adventures of Akpos. It stars Ayo Makun, Osita Iheme, Richard Mofe-Damijo, and IK Ogbonna.
Produced by popular comedian Ayo Makun - a box office favourite, it's no surprise that this movie makes this list.
Recommended articles
This blessing has blown my mind - Camidoh reacts to his BET nomination
I get revelations from God but I don't reveal them over fear of insults - Ofori Amponsah
Agya Koo funded his mansion with NPP money, we actors can't build this house - Oboy Siki
Canadian-based Ghanaian musician Cobbi Kay drops 'Aboki Pandemic'
Tom D'Frick revives drill music in Ghana with 'Feelings' featuring Kofi Jamar
We offered to keep Mr Drew at Highly Spiritual but he rejected it – Kaywa reveals
Camidoh unleashes his soulful mastery with the highly anticipated LITA mixtape
Ras Nene loses cool as Achimota Mall stops him from shooting skit with Efia Odo (WATCH)
Ghanaian singer Darkua's release soulful new single ECHO