Masquerade screams as bullet penetrates him after spiritual powers failed
A masquerade who is reported to have been displaying magical powers for a long time recently got disappointed as a bullet allegedly penetrated him.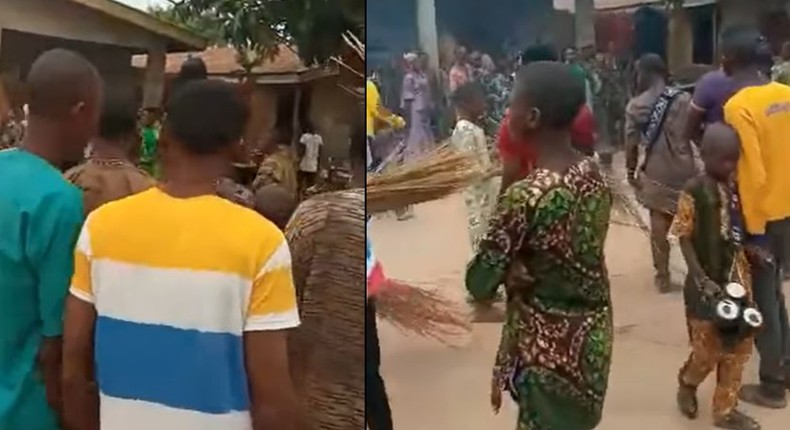 Reports say the sad incident occurred during a masquerade festival in Igbope, Igboho in Nigeria's Oyo state.
The said masquerade was just one of many others who were trying to show off the potency of his spiritual powers when they failed him.
It is reported that he was attempting to show that he was bulletproof but the bullets fired at him penetrated his body.
A video of the scene was shared by a Facebook user, Shitta Olajide Fasasi on the social media platform and many people have been reacting to the incident.
"The magic power failed the masquerade!!! And, Masquerade's spiritual powers failed and the bullets penetrated his body during Masquerades festival in Igbope, Igboho, Oyo state two days ago.
"Meanwhile, the Masquerade has been performing it in the past before this failure. Only God, the almighty is the most powerful," Shitta Olajide Fasasi wrote to caption the video.
JOIN OUR PULSE COMMUNITY!
Recommended articles
Police on manhunt for man who raped 90-year-old mother
12-year-old school dropout turns preacher to get money to feed sick father & grandmother
Man storms female MP's bedroom with machete: "He told me to face the wall & say my last prayers"
"Whoever said CS surgery was very painful lied" - Vera Sidika says after giving birth
Ghanaian man says he's lost love for "very beautiful" wife of 7 years who loves him so much
Boy, 13 with disability who crawls over 4 hours to school is among the top 4 in class (video)
My husband's side chick wants him to send her abroad or she'll tell me about her pregnancy - Woman
12-year-old girl single-handedly carries pregnant mom in labour across lake at night to hospital
Pretend to have lost your job & observe how your wife treats you in the next 14 days – Woman to men