Lawmakers run for cover as MP removes facemask and sneezes loudly (video)
This coronavirus period must be a tough time for some people especially those who are used to sneezing loudly in public like nobody's business; they now have to suppress it.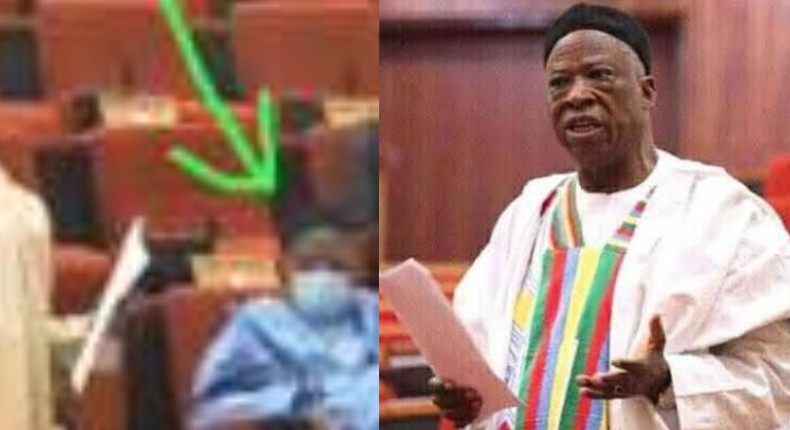 A hilarious video making rounds online shows the Chairman of Nigeria's Senate Committee on Agriculture, Senator Abdullahi Adamu removing his facemask to ease himself by sneezing loudly, while the Senate Leader, Yahaya Abdullahi was addressing the chamber.
Since 'these are not normal times', the leader had to halt his speech while other senators burst into laughter.
Well, while some lawmakers found the development funny, others thought it wise to take cover quickly. Senator Ibrahim Gobir from Sokoto State immediately stood up from his seat while other senators adjusted their face masks properly.
In the video, all members are seen seated far apart from each other by way of social distancing, while wearing facemasks.
Apparently not being used to the new lifestyle, Adamu who represents Nasarawa West Senatorial District could be seen turning around in his seat uncomfortably before eventually shifting the facemask up to sneeze.
Meanwhile, the Clerk to the National Assembly, Mohammed Sani-Omolori, has shut down all forms of activities in the senate until further notice, according to Punchng.com.
Some people have been wearing the facemasks under the belief that they protect them against the coronavirus pandemic but the World Health Organisation has said that the effort might be fruitless.
If you are healthy, you only need to wear a mask if you are taking care of a person with a suspected 2019-nCoV infection.
Wear a mask if you are coughing or sneezing.
Masks are effective only when used in combination with frequent hand-cleaning with alcohol-based hand rub or soap and water.
If you wear a mask, then you must know how to use it and dispose of it properly.
Before putting on a mask, clean hands with alcohol-based hand rub or soap and water.
Cover mouth and nose with mask and make sure there are no gaps between your face and the mask.
Avoid touching the mask while using it; if you do, clean your hands with alcohol-based hand rub or soap and water.
Replace the mask with a new one as soon as it is damp and do not re-use single-use masks.
To remove the mask: remove it from behind (do not touch the front of the mask); discard immediately in a closed bin; clean hands with alcohol-based hand rub or soap and water.
JOIN OUR PULSE COMMUNITY!
Recommended articles
Adorable twins bag first-class degrees from the same university
Doctor and nurse suspended for having sex, moaning and disturbing patients who're in pain
You'll need us when you get wounded; stop attacking us – Ambulance Service to armed robbers
IGP chases & arrests 'fake' Toyota Landcruiser V8 driver for reckless driving
33-year-old lady will be the first black woman to live in space and work
Police save little boy who hid inside aeroplane's engine to travel abroad (video)
Pacific lingcod, a fish with 555 teeth loses up to 20 everyday & grows them back immediately
Man sparks reactions as he reserves the front seat of his car for his "wife only"
Boys of this tribe must perform blowjob on older men, drink their semen to "grow properly"