Letter of mum teaching her son a bitter lesson goes viral
"When I am ignored time and time again, there are going to be greater consequences," wrote one fed-up mom to her son, after growing tired of "playing games and being a doormat."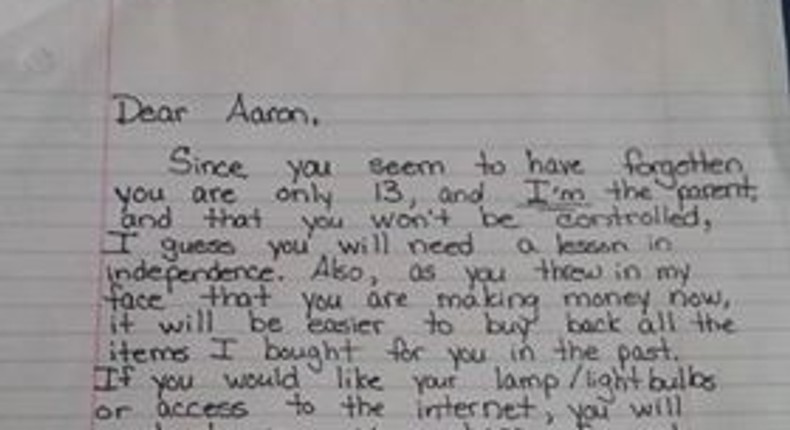 Not willing to put up with his attitude any longer, Estella wrote a note, telling her son that if he wanted to act like an adult, he'd have to pay his way like one.
Since you seem to have forgotten that you are only 13 and I'm the parent, and that you won't be controlled, I guess you will need to learn a lesson in independence. Also, as you threw in my face that you are making money now, it will be easier to buy back all the items I bought for you in the past.
If you would like your lamp/lightbulbs or access to the internet, you will need to pay your share of costs:
Also you will need to empty the trash Mon, Wed & Friday as well as sweep and vacuum those days. You will need to keep your bathroom clean weekly, prepare your own meals and clean up after yourself. If you fail to do so I will charge you a $30 maid fee for every day I have to do it.
If you decide you would rather be MY CHILD again instead of a roommate, we can negotiate terms.
She wrote in an update that her son initially crumpled up the note and stormed out when he saw it, but later came around. She says he apologized and asked what he could do to earn back items she had taken from his room -- including some electronics, his favorite sheets and some clothes.
The post has gotten over 85,000 likes and has been shared over 160,000 times on Facebook. Though she's gotten mixed responses -- everything from parents applauding her hard stance to those saying she was too tough -- Estella said the letter was only meant for family and friends -- and never for public consumption. But once she realized her mistake, she figured there was no point in removing the letter as it had already made the rounds.
She did, however, post a follow-up note, for her critics and supporters alike, explaining her actual expectations of her son and her parenting philosophy. "Let's get serious! I am not going to put my 13 year old on the street if he can't pay his half of the rent. I am not wanting him to pay anything. I want him to take pride in his home, his space, and appreciate the gifts and blessings we have. I wrote him a "bill" to make a point. Nothing comes free," she wrote.
She insists she's not disciplining him, but rather teaching him about the real world. "He wants the perks of growing up without the responsibility that comes with it."
JOIN OUR PULSE COMMUNITY!
Recommended articles
'Go and sin no more' – Court cautions Evangelist for fingering, fondling woman
Police on manhunt for man who raped 90-year-old mother
12-year-old school dropout turns preacher to get money to feed sick father & grandmother
Man storms female MP's bedroom with machete: "He told me to face the wall & say my last prayers"
"Whoever said CS surgery was very painful lied" - Vera Sidika says after giving birth
Ghanaian man says he's lost love for "very beautiful" wife of 7 years who loves him so much
Boy, 13 with disability who crawls over 4 hours to school is among the top 4 in class (video)
My husband's side chick wants him to send her abroad or she'll tell me about her pregnancy - Woman
12-year-old girl single-handedly carries pregnant mom in labour across lake at night to hospital