Restaurant boss flogs smartly dressed waiter for coming to work late (video)
Would you submit yourself to your boss to lash you for reporting to work late when in fact, even in basic schools, teachers are not allowed to cane students?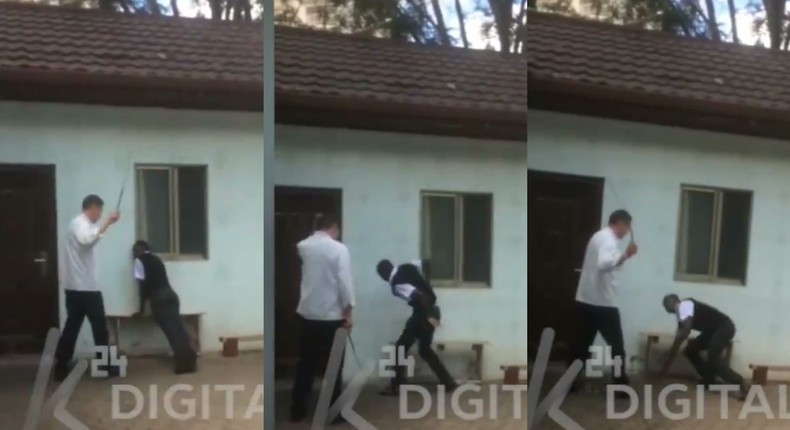 A disheartening video shows a Chinese man reported to be the senior staff at a hotel in Kenyan flogging a Kenyan employee for allegedly reporting to work late.
Kenyans have been outraged after the video of the unidentified Chinese man said to be a senior official at Chez Wou Restaurant in Nairobi's Kileleshwa estate went viral online.
In the short clip shared by K24, the Chinese national is seen asking the Kenyan national identified as Simon Oseko to go down on his stomach as he holds a cane in his hand.
In the video, Oseko is seen receiving not one but two canes from the Chinese manager as his colleagues watched from a distance, while others laugh at the development.
The boss is heard asking him to choose which part of the body he preferred whipped. The youthful waiter is then heard pleading with the boss to administer the canes fast enough so that he can be done with it sooner. The boss then goes ahead to hit the helpless waiter on his ribs and he (the waiter) is seen wreathing in pain.
According to Tuko.co.ke, the Chinese man is the head chef at the restaurant. The victim is reported to have endured the brutality and humiliation for over six months and that he was sacked prematurely after the latest incident.
Oseko reported the incident at Kileleshwa Police Station where he obtained a P3 form and authorities are said to have taken up the matter to investigate, the news website reported.
JOIN OUR PULSE COMMUNITY!
Recommended articles
Watch video: Female secondary school student smokes and others play ludo in class
Two hippos test positive for COVID-19
Man battles for life at hospital after being raped by 2 women, leaving him unconscious
4 die as bus carrying choristers to wedding plunges into a river
Three Town SHS final year student jailed 4 years for stabbing teacher
Fake Nigerian lawyer who's practised for 10 years arrested during cross-examination (video)
Uneasiness in Uganda's parliament as Speaker vows to name MPs who impregnate and abandon girls
20-year-old lady who sued doctor for allowing her to be born has won the case
Kenyan court grants divorce to wife after husband stopped working, saying it was God's direction