"This month 27th, COVID-19 will be over; whether we like it or not" – TB Joshua declares (video)
The founder of the Synagogue Church of All Nations (SCOAN), Temitope Balogun Joshua, simply known as T.B. Joshua has once again put his credibility on the line to predict an end to the Coronavirus pandemic.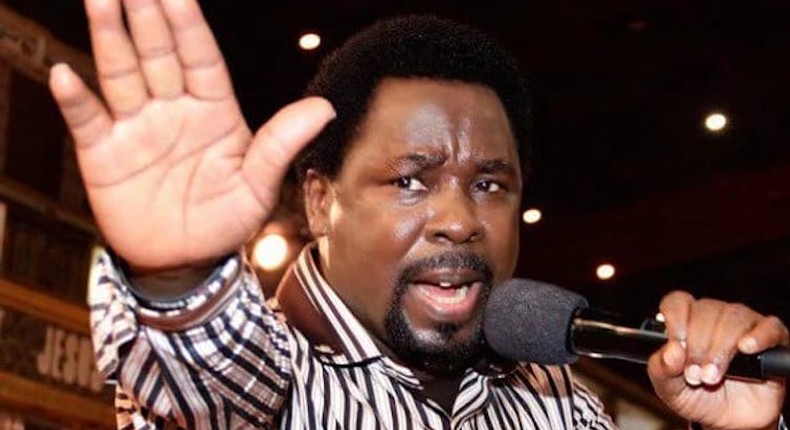 So far, Ghana has recorded six cases of the virus which have been confirmed positive.
Government of Ghana has introduced new and more drastic measures including closure of schools, suspension of social gatherings such as church and political activities among other things.
But preaching in his church on Sunday, March 15, 2020, Prophet T.B. Joshua said the dreaded Coronavirus disease will go away by itself.
The famous man of God mentioned the end of March 2020 specifically as the time the novel virus will go away at its own will, saying the situation cannot be remedied by the power of medicine because it was not a medicine that brought it.
"I came out at the beginning of this year saying last year will end in March and the year will continue to be very fearful till this month [March]. This month 27th, it will be over. By the end of this month, whether we like it or not – no matter the medicine they might have produced to cure whatever, it will go the way it came," T.B. Joshua declared, adding: "If it is not a medicine that brought this to the world, medicine cannot take it out. It will go the way it came," he said to much applause from the congregation.
Recently, the man of God declared that it would rain for one week in China's Wuhan and wipe off the virus. There has been a decline in new infections in China but it is unclear if it has anything to do with the T.B Joshua's prediction.
Watch him in the video below as he makes the latest declaration:
JOIN OUR PULSE COMMUNITY!
Recommended articles
Man battles for life at hospital after being raped by 2 women, leaving him unconscious
4 die as bus carrying choristers to wedding plunges into a river
Three Town SHS final year student jailed 4 years for stabbing teacher
Fake Nigerian lawyer who's practised for 10 years arrested during cross-examination (video)
Uneasiness in Uganda's parliament as Speaker vows to name MPs who impregnate and abandon girls
20-year-old lady who sued doctor for allowing her to be born has won the case
Kenyan court grants divorce to wife after husband stopped working, saying it was God's direction
Man arrested and taken to court for stealing Bible
Primary pupils mould blocks to build single room for mum of their mate who died of tumour