A tribute to Senegalese sculptor
In a small courtyard studio in Dakar, Babacar M'Bodj Niang created the extraordinary sculptural furniture that won him global acclaim.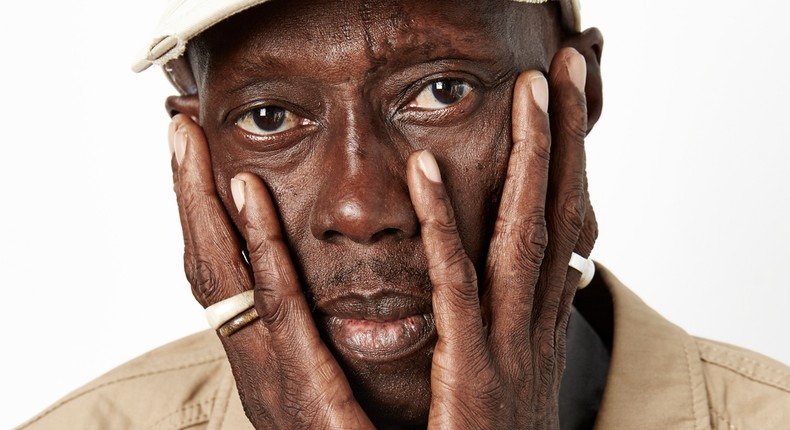 In the celebrated New York gallery R & Company, on 24 March 2015, and in celebrated New York gallery R & Company, the art and design fraternity attend the opening of the group exhibition Grains of Paradise.
Participating in the show were names synonymous with the new momentum of African design: Porky Hefer playfully planting his giant nests, Dokter and Misses and their village of cabinetry, Kassena Town and Ardmore's whimsical, elaborately decorated ceramics; and the extraordinary, humanoid furniture of Senegalese designer and artist Babacar M'Bodj Niang.
The day after the exhibition opened (to much acclaim) Niang, who had been too ill to attend, died peacefully in his home city, Dakar.
He was 51. Barely known on his own continent, he had just entered onto the world stage.
"What was so heart-breaking and poignant was that Babacar had just reached the pinnacle of his success," says Trevyn McGowan, who co-organised the exhibition through her gallery Southern Guild.
"When Zesty Meyers and Even Snyderman of R & Company saw his pieces at GUILD (a prestigious international design fair held every February in Cape Town) in 2014, they bought all they could then and there.
"They bought the latest work for Grains of Paradise outright, three of the pieces going into their own private collection. They totally believed in him and that he was a groundbreaking voice. Globally, people were investing in him and he was poised to reap the rewards and the recognition.
"The work has such a unique character to it – really unlike anything we'd ever seen." Meyers says.
"It was exciting to find this level of uniquely exceptional, self-taught craftsmanship coupled with such a pure and joyful sense of form and structure."
Niang's work needs to be seen in the neutral space of a gallery – the sculptural furniture requires considered observation, as there is much to take in. There is an immediate sense of discomfort at its anthropomorphic nature – a pointed human foot or a gnarled hand-stump at the end of a chair leg or arm.
The work suggests something dark and disturbing. I have seen some people recoil from touching it, but others see its playfulness and immediately engage.
When they do, they are rewarded with pleasant surprises – the unexpected gentle spring-back of the seat due to ingenious engineering, or the stump echoing the grip of the hand perfectly, angled to make the arm relax.
Niang's work hints at an intangible sense of our animalistic nature, something elemental and visceral in our human psyche. The materials he manipulated – found wood, leather, bone and metal – helped to create that sense, but the real genius of his work was in the honing into elegant forms.
And then, ironically, there is humour: the pieces have a catch-me-if-you-can energy, as if frozen in movement or poised to take a step.
"He intended the pieces to be alive," says McGowan.
Niang was a prominent and well-loved member of Design Network Africa (DNA) and I was fortunate enough to be part of a DNA group that visited his studio in Senegal.
In a semi-industrial area on the outskirts of Dakar, opposite the immaculate house of a local imam, his not-so-pristine studio stood – the usual anonymous breezeblock affair ubiquitous on the continent.
Inside was a courtyard filled with plants growing in bright plastic containers, and an older building – presumably a former house – where the walls had a rich patina of mildew, damp and worn-away paint.
In the warren of gloomy rooms Niang's furniture pieces – later to be sent to galleries around the world – were placed in strategic positions suitable to their character.
It was clear that considerable thought had been put into where the visitor should see them and at what angle.
Towards the back of the building was another yard where he worked, a pile of found and scavenged wood in the corner – essential pieces that dictated the forms of his furniture.
Strips of dried-up leather and skins to be coaxed back into life by washing and stretching, and then woven into a design, sat on an old table.
There was a roughly-hewn workbench and a sparse set of tools – all made by Niang himself, exquisite objects in their own right. Nothing that did not need to be there was there.
Always dressed in a loose shirt and baggy jeans which barely hid his thin frame, Niang was not a man who spoke out of turn, but he respectfully commanded attention when he did speak in his quiet and considered way.
He exuded warmth and loved the comradery of DNA, enjoying the respect and reverence he got from the group. The opinion of his peers and being acknowledged as an artist mattered deeply to him.
He was, however, very much one of the boys, often seen in deep conversation with fellow furniture makers Cheick Diallo or Hamed Ouattara.
He also formed strong friendships with the female members of the group, especially ceramicist Marjorie Wallace, a kindred spirit, and the super-glamorous jeweller Adele Dejak.
"Babs!" Dejak would shriek whenever she saw him, sweeping him into a big bear hug – "My brother!" He would return her embrace with shy, downcast eyes, abashed by the loud attention.
Dejak and he often traded pieces or materials – especially bone, a material common to their work – and he liked to give gifts; not for an occasion, but because a person meant something to him.
On a recent visit to the studio of ceramicist Andile Dylvane, a former member of DNA, I was shown a cherished leather bracelet made by Niang.
"I never take it off. Babacar gave it to me a few years ago as a bond of brotherhood at the very start of DNA." Dylvane recalled.
"He came straight over to me, even though he did not know me, and gave it. He was a wonderful man – so humble and kind."
"I feel honoured to have met Babacar Niang, a true design genius and a kind and wonderful man, and to have the opportunity to exhibit his extraordinary work,"Zesty Meyers says.
"The response to the collection we had on view has been amazing... People are immediately drawn to the spirit that is present in these works, which communicate a sense of freedom, of joy and play. His spirit lives on through his designs."
"And at least DNA was there and gave him the recognition he deserved, and he got to see that," adds Trevyn McGown.
"He got to see that the world had finally recognised his amazing talent."
Recommended articles
Top 10 most followed celebrities on Instagram – 2023
4 sexual fantasies women often have
DIY Recipes: How to make baked chicken balls
The best celebrity pictures on Instagram this week
5 reassurances your girlfriend needs to hear regularly
For women: 5 causes of a missed period apart from unsafe sex
Check out the multi-million dollar outfit Despite wore for his 61st birthday [Photos]
Opulence, flamboyance on display as Osei Kwane Despite celebrates 61st birthday [Videos]
Valentine's Day: 7 unique date ideas to celebrate this romantic day