How to prepare homemade French baguette
Pulse daily DIY recipe teaches prospective chefs how to prepare healthy, Ghanaian dishes in a simple way.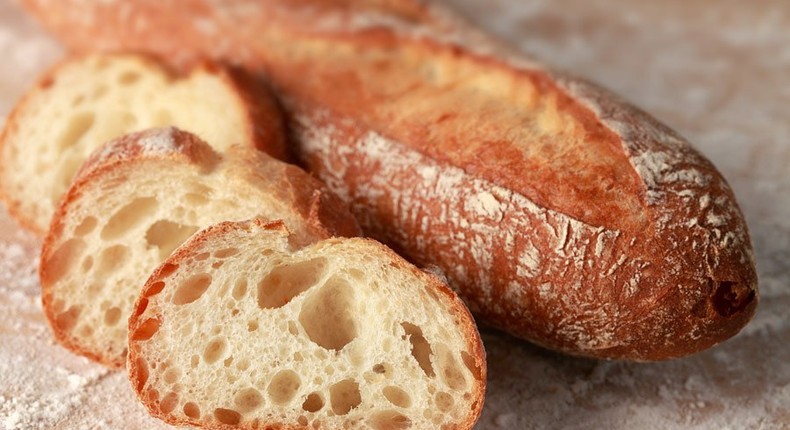 Dry yeast
warm water
cups bread flour, divided
salt
Cooking spray
cornmeal
Dissolve yeast in warm water in a large bowl; let stand 5 minutes. Lightly spoon flour into dry measuring cups; level with a knife. Add 2 3/4 cups flour to yeast mixture; stir until a soft dough forms.
Cover and let stand 15 minutes. Turn dough out onto a lightly floured surface; sprinkle evenly with salt.
Knead until the salt is incorporated and the dough is smooth and elastic (about 6 minutes); add enough of remaining flour, 1 tablespoon at a time, to prevent dough from sticking to hands (dough will feel slightly sticky).
Place dough in large bowl coated with cooking spray, turning to coat top. Cover and let rise in warm place (85°), 40 minutes or until doubled in size. (Gently press two fingers into dough. If an indentation remains, the dough has risen enough.)
Punch dough down; cover and let rest 5 minutes. Divide in half. Working with 1 portion at a time (cover remaining dough to prevent drying), roll each portion on a floured surface into 12-inch rope, slightly tapered at ends.
Place ropes on large baking sheet sprinkled with cornmeal. Lightly coat dough with cooking spray, and cover; let rise 20 minutes or until doubled in size.
Preheat oven to 450°.
Uncover the dough. Cut 3 (1/4-inch-deep) diagonal slits across top of each loaf.
Bake at 450° for 20 minutes or until browned on bottom and sounds hollow when tapped.
Recommended articles
Why you keep attracting emotionally unavailable men
3 things you should do if you plan on going through your partner's phone
PCOS: The leading cause of facial hair and menstrual disorders in women.
How to dress like Jackie Appiah in 5 easy steps
3 easy ways to shape your bofrot (puff puff)
Debunking 3 breastfeeding myths
DIY Recipes: 2 ways to roast plantain at home
3 things you shouldn't do for a woman you are not married to
6 ways to keep your boyfriend interested