DIY Recipes: How to grill Tilapia, a step by step guide
An evening with hot banku and grilled tilapia won't be a bad idea.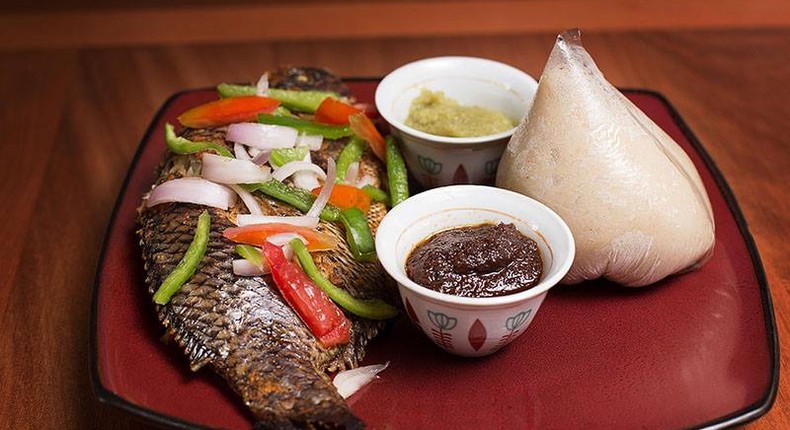 Grilled tilapia is on high demand in Ghana. It is mostly served with banku and pepper sauce.
Descale tilapia and remove any unwanted parts (gill covering and hard fins).
Cut 2 diagonal slits of each side of the fish
Wash and blend garlic, ginger, onion and pepper
Pour blended ingredients in a bowl and add oil, season and salt to taste
Rub mixture over the fish( diagonal slits and inside of fish). You can keep fish in the fridge for an hour or more before grilling it or grill immediately.
When using an oven, pre-heat the oven. Sprinkle a little oil on the pan and place fish in a pan before putting it in the hot Oven. Grill tilapia for 5-10 mins on both sides. tilapia grilled
When using charcoal, brush the fish basket with oil and place fish in it. Place basket directly on top of charcoal fire and grill for 5-10mins on each side. Make sure to keep fish soft and moist with oil while grilling. You can as well use a microwave.
Garnish with green bell pepper and onion.
Serve grilled Tilapia with Banku, Fried rice and any food of choice.
JOIN OUR PULSE COMMUNITY!
Recommended articles
DIY Recipes: How to make Apple bread
Dear men, 7 sexiest qualities you possess that attract women
How much should you spend on a wedding dress?
The best celebrity pictures on Instagram this week
Can walking after a meal help in faster digestion?
For men: 7 tips to help you have the best first-time sex
This is why revenge cheating on your unfaithful partner isn't a bad idea
8 signs your guy really wants to marry you
First kiss: Here's how to do it right to impress your partner