DIY Recipes: How to make carrot pie
Carrot pie is quick and easy to make, versatile and utterly delicious.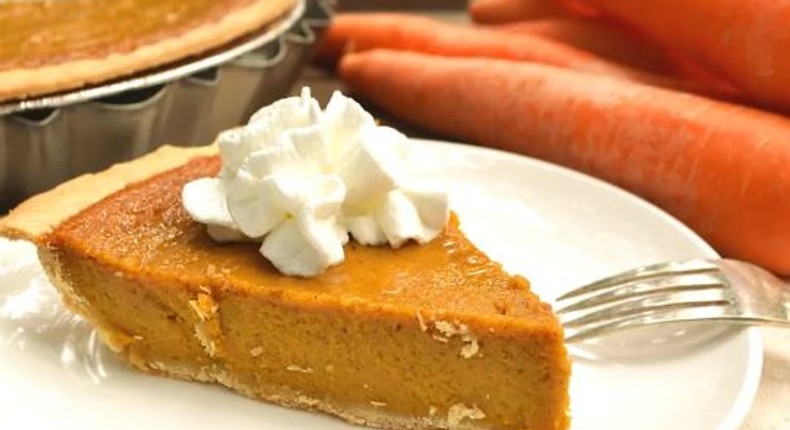 This pie can be served with beverages, or as a dessert with whipped topping or ice cream.
1 (9-inch) unbaked pie shell
1 teaspoon ground cinnamon
1 teaspoon vanilla extract
Preheat the oven to 400 degrees F (200 degrees C). Press the pie crust into the bottom and up the sides of a 9-inch pie plate.
Bake the pie shell for 3 to 5 minutes, just to firm it up, then remove it from the oven, and set aside. Place carrots in a saucepan with enough water to cover them. Bring to a boil, and cook until tender, about 10 minutes. Drain water, and mash carrots until smooth using a food processor, or potato ricer.
In a medium bowl, mix together the carrot puree, sugar and eggs. Mix in the cinnamon and vanilla. Gradually stir in the milk. Pour the mixture into the partially baked pie shell.
Bake for 10 minutes in the preheated oven, then reduce heat to 350 degrees F (175 degrees C). Bake for an additional 40 to 45 minutes at the lower temperature, or until firm.
Cool completely before serving.
Recommended articles
DIY Recipes: How to make beef turnover
G-strings: Here are 3 surprising risks of wearing them regularly
Roselyn Ngissah's birthday style is a lesson for plus-size women
What breakfast is like in 7 African countries
Valentine's Day gifts: 7 special things to buy for your partner
5 sexy Valentine's Day outfit inspired by Kim Oprah
Honey: 4 simple ways this superfood can help in weight loss
Wedding guest: 6 Natalie Fort outfits that are wedding perfect
DIY Recipes: How to make Kokonte flour at home