DIY Recipes: How to make cornmeal doughnuts (Awiesu)
Cornmeal doughnuts also known as Bamfo bisi or Awiesu is a very delicious Ghanaian snack and street food.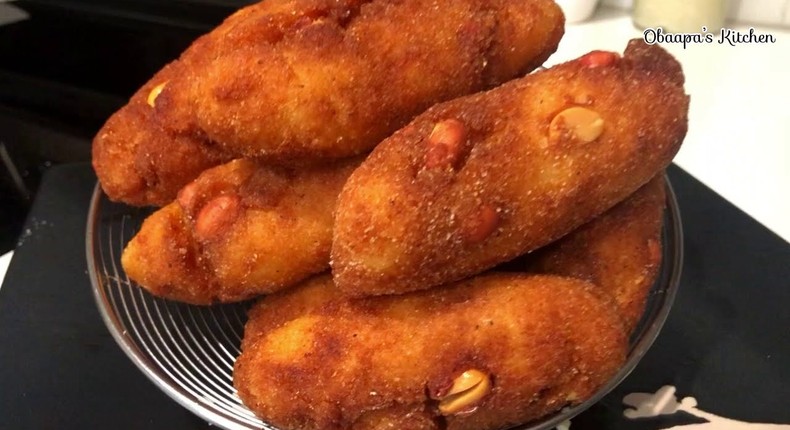 This snack has a crunchy exterior and is soft on the inside.
Ingredients for making Awiesu
Cooking oil for deep frying
Roasted groundnuts(optional)
Method for making Awiesu
Pour half of the corn flour into a saucepan and mix with water. On medium heat, place the mixture and heat for about 8-10 minutes or until a smooth paste is formed. Set aside to cool
Pour the remaining 100g of flour into a large bowl. Add sugar and nutmeg and stir together.
Scoop and transfer the hot paste into the dry corn flour and using a spatula mix well until a dough is formed. Roll the dough between your palms to form an oblong shape with clean hands.
Then insert peanuts if using around and set aside on a plate.
Pour cooking oil into a pot until well heated.
Fry the Awiesu until golden brown.
Recommended articles
Here's why buying a car may not solve all your problems
Aside from smoking and drinking, these factors could be damaging your kidneys
How to seduce your man: Insights from Reflo's TV Ladies
What nobody tells you about being a mother
World Heart Day 2023 - 6 ways to reduce risks of stroke and heart diseases
DIY Recipes: How to make ice cream cones
Why you keep attracting emotionally unavailable men
3 things you should do if you plan on going through your partner's phone
PCOS: The leading cause of facial hair and menstrual disorders in women.