How to prepare beef suya
Pulse daily DIY recipe teaches prospective chefs how to prepare healthy, Ghanaian dishes in a simple way.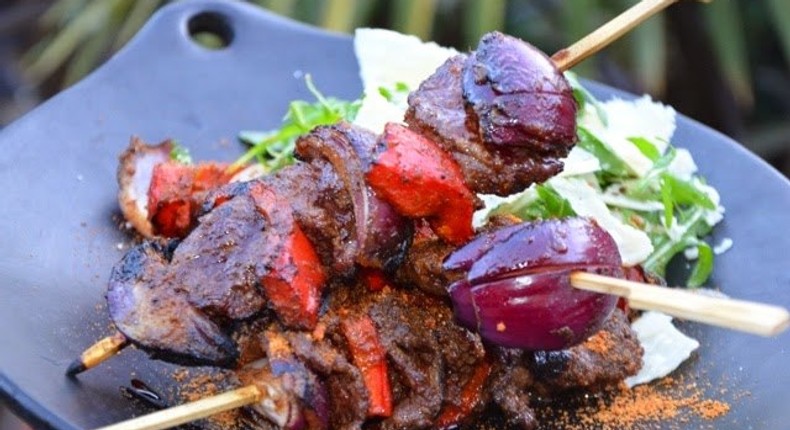 800g of diced meat
8 skewers soaked in water
Green or red sweet peppers cut into chunks
Red or white onions cut into chunks
120g of Suya spice mix powder
4 tablespoons of olive oil or sunflower oil
Salt to taste
In a bowl, mix 100g of Suya, salt and oil together and set aside.
Using your soaked wooden skewer , insert a cubed meat, onion, pepper and repeat the process on each skewer.
Tip: Soaking the wooden skewers prevents it from burning quickly when placed on a grill.
Pour the marinade over the meat and leave for at least an hour.
Remove your meat from the fridge and bring it to room temperature, (which should take about 20 minutes).
The best form of grilling this is by using charcoal, which lends its smokiness to the nutty taste of the Suya spice mix.
Sprinkle half the remaining Suya over the meat and charcoal grill it (for 2 minutes on each side for a medium grilled steak or 3 minutes for a well done steak).
Once cooked sprinkle with the remaining Suya and serve with your favourite green salad.
JOIN OUR PULSE COMMUNITY!
Recommended articles
DIY Recipes: How to make Beef sauce
How to dress stylishly for your birthday inspired by songstress Fantana
Dear men, here's how to wash your genitals
7 weird things men find attractive in women
Style inspiration: Joselyn Dumas is a real 'Glamour Girl' in this black outfit
For women: Here's how to make a rich, classy man fall in love with you
Azoospermia: Here's what it means to produce semen without sperm and remedies
DIY Recipes: How to make Avocado smoothie
Nana Ama McBrown makes massive come back on the screen in glamourous outfits