How to prepare shrimps spring rolls
Pulse daily DIY recipe teaches prospective chefs how to prepare healthy, Ghanaian dishes in a simple way.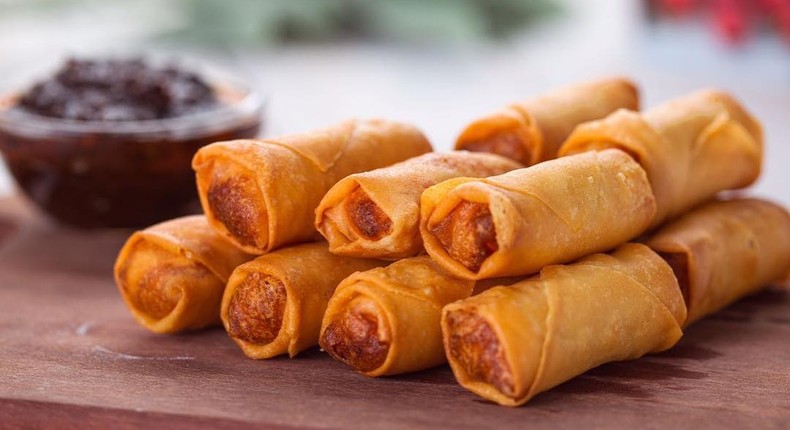 1/3 cup sugar
1 1/2 teaspoons ketchup
1 1/2 teaspoons rice wine vinegar
1 1/2 teaspoons Sriracha
3/4 teaspoon cornstarch
1 tablespoons vegetable oil
2 teaspoons grated ginger
2 cloves garlic, minced
1 cup finely chopped green cabbage
1/2 carrot, shredded (about 1/2 cup packed)
6 ounces small shrimp, finely chopped
3 scallions, thinly sliced on the diagonal
2 tablespoons mirin
1 tablespoons soy sauce
Kosher salt and freshly ground black pepper
1/2 teaspoon toasted sesame oil
1/2 cup mung bean sprouts
9 large sheets spring roll pastry wrappers, cut into quarters
1 large egg, beaten
Peanut or canola oil, for frying
Heat a large skillet or wok over medium-high heat.
Add the oil, ginger and garlic, and cook, stirring constantly, until aromatic, about 30 seconds. Add the cabbage and carrots, and cook, stirring, until wilted, about 1 minute.
Add the shrimp, 1/4 teaspoons salt and a few cracks of black pepper, and cook, stirring, until the shrimp turn pink, about 2 minutes.
Remove from the heat, and stir in the sesame oil. Let the mixture cool for 15 minutes. Fold in the bean sprouts. When completely cool, roughly chop the mixture and set aside.
Put 1 spring roll wrapper on a work surface with a point facing you (it should be a diamond shape). Put about 1 tablespoon of the shrimp mixture in the center of the wrapper, and spread to make a 1-inch log.
Fold the bottom of the wrapper over the filling, rolling tightly to keep the spring rolls firm. Fold the sides of the wrapper over the filling. Brush the top edge of the wrapper with egg.
Roll up tightly, pressing to seal the edge. Put finished rolls, seam-side down, on a plate or baking sheet until ready to fry.
Repeat with the remaining wrappers and filling. Fill a large heavy-bottomed pot or Dutch oven with 3 inches of oil, and attach a deep-fry thermometer to the side.
Heat the pot over medium-high heat to 375 degrees F.
Fry the spring rolls in batches, 4 or 5 at a time, until lightly golden, about 2 minutes. Remove with a slotted spoon to a paper towel-lined plate to absorb excess oil.
JOIN OUR PULSE COMMUNITY!
Recommended articles
How to make crispy and creamy doughnuts in your kitchen
DIY Recipes: How to make Chicken cheese sandwich
Celebrating Menstrual Hygiene Day - Are we committed to creating a period friendly Ghana?
How to make love: 7 best tips to have incredible rainy season sex
A review of Serwaa Amihere's outfits for 'The Next TV Star' 2022
For women: 5 best tips to be incredibly good in bed for your partner
Nipple discharge without pregnancy? Here's what it means and remedies
Meet Robert Augustus Abban, man behind most jaw-dropping events photos online
Why South Korea is the plastic surgery capital of the world