How to make coated peanuts
These coated groundnuts are spicy and slightly sweet.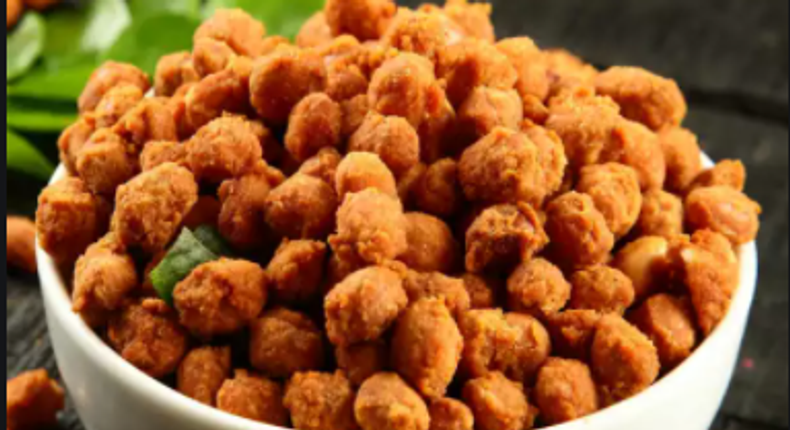 Powdered pepper, black pepper, nutmeg and sugar is added to the flour to coat the groundnuts.
2 cups/ 330g groundnuts or peanuts
1 ½ cup/ 180g all-purpose or pastry flour
1/2 teaspoon baking powder
3/4 cup/ 135g caster sugar
1 ½ tablespoon powdered pepper like cayenne or chilli powder
1 1/2 teaspoon grounded black pepper
Fill a medium saucepan with enough water to boil the groundnuts. Place on high heat and bring to a boil. Immediately the water starts boiling, gently put in the groundnuts, cover and boil for three to five minutes.
Turn off the heat and use a colander to strain the groundnuts. Spread the groundnuts over a big tray or baking pan such that there is enough room for each groundnut to dry.
Whisk together the flour, sugar, powdered pepper, black pepper, baking powder, nutmeg and salt in a bowl.
Beat the eggs together and set aside. On the same tray the groundnuts are on, pour the beaten eggs over the groundnuts making sure every groundnut is well coated.
Pour half the flour onto the egg coated groundnuts and using your two hands, mix everything together carefully. It will look messy and some of the groundnuts might have stuck together.
Spread the groundnuts on the tray to separate the ones stuck together and pour the remaining flour on to coat. Let the coated groundnuts rest for eight to ten minutes.
Heat a deep fryer with oil on medium heat. When the oil is hot, put in some of the groundnuts. DO NOT CROWD the fryer.
Continuously stir till the groundnuts are brown. Remove from the oil and place in a colander lined with paper tissues. The groundnuts get darker and crunchy when cooling so do not keep them in the fryer for long.
Store in an airtight container
JOIN OUR PULSE COMMUNITY!
Recommended articles
10 stunning kente styles that will trend this 2022
Style Inspiration: 6 times Fella Makafui nailed the all-brown look
Exercising naked: Here's why this act is beneficial
5 signs your boyfriend really loves you
Beauty tips: How to make your makeup last longer this 2022
Here are 7 foods you need to eat for increased sexual stamina
Marriage goals: Okyeame Kwame sends touching message to his wife on their 13th anniversary
For women: Here's why you feel horny during your period days
Let's inhale some beauty from actress Tracey Boakye on her birthday