How to make Agushi or Akatewa soup
This soup is mostly eaten in the western part of Ghana.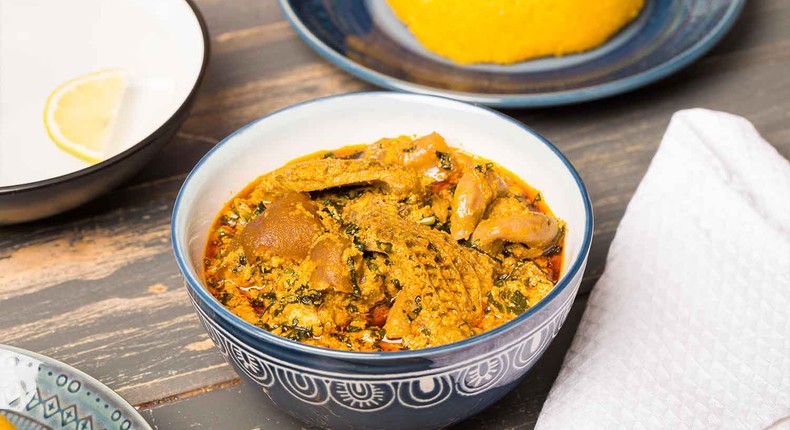 Usually served with fufu or any other carbohydrate foods, this soup is filled with loads of nutrients.
2 Cups Powdered Agushi / akatewa
Wash and clean the vegetables, thus tomatoes, 2 onions, pepper ginger and garlic.
Put them in the saucepan and bring to a boil for about 5 – 6 min
Prepare the chicken or meat and chop the 3rd onion as part of the seasoning.
Add your seasons – adobo, Margie.
Take the vegetables of the fire and pour the stock onto the chicken to steam.
Allow to steam under medium heat for 5 – 10 mins.
Put the vegetables in the blender and blend till smooth.
Pour unto the chicken and allow to simmer.
Pour the Agushi into a mixing bowl, add about 4 cups of water and mix together.
Strain the Agushi into a saucepan with a fine strainer.
Put it on the hub and stir continuously to avoid the Agushi from becoming lumpy.
Let it boil for about 5 minutes
Add the agushi to the chicken and allow to cook for about 10 – 15 min.
Chop some okro, and add to the soup if desired.
Taste for salt
Allow the soup to simmer for few more minutes. Soup ready when the oil collects on the top.
Serve with fufu.
Recommended articles
4 secrets to achieve mindblowing orgasms this year
DIY Recipes: How to make gingerbread muffins
For women: 4 easy hacks to remove lace frontal without damaging the hair
The best celebrity pictures on Instagram this week
Here are ways to naturally enlarge the male organ
6 things you need to know about sugar daddy relationships
Here are 4 types of single ladies that men avoid
7 weird things men find attractive in women
5 simple tricks to help you stop snoring