São Paulo - 10 reasons you NEED to visit Brazil's financial center
The pilgrim-style Pátio do Colégio church marks where Jesuit ministers founded São Paulo in 1554. Here are some reasons São Paulo should be one of the places you visit.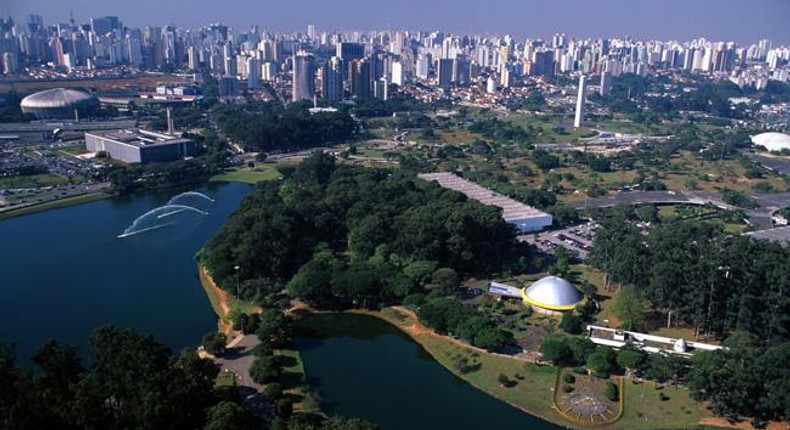 Brazil's financial focus, it has abundant social organizations and a rich building traditions. Its notable structures range from the 1929 Edifício Martinelli high rise and the neo-Gothic Metropolitan Cathedral to pioneer designer Oscar Niemeyer's thrilling Edifício Copan. The pilgrim-style Pátio do Colégio church marks where Jesuit ministers founded the city in 1554. Here are some reasons São Paulo should be one of the places you visit.
1. São Paulo is the economic and financial hub of Brazil, and home to almost 17 million residents.
Over the years steady streams of immigrants have flocked here for the cosmopolitan vibe, and that has made São Paulo tremendously diverse and exciting. The melting pot of cultures is evident in the various districts within the city; such as the Italian Bela Vista, brimming with pizzerias and authentic cafes.
The Jewish community has their part of town that is dotted with many synagogues, and then there's the Turkish and Arab communities with plentiful shoppes and kebab restaurants. Little Japan is a highlight, and there one can find the Japanese-Brazilian Museum, which explores the history of Japanese immigrants to the area.
2. The Edificio Banespa has a wonderful observation deck on its 36th floor.
This is a great place to take in the stunning view of São Paulo from above. The 161 m high building was modeled from America's Empire State Building. The deck above is a great place to escape the hustle and bustle of the city, and there's a an opportunity for rooftop dining and drinking at the Edificio Italia. Popular amongst the business people and tourists to the city, the bar is open late and the lights at night are spectacular.
3. At Ibirapuera Park there are plenty of peaceful fountains, lakes, bike paths, and even a remarkable planetarium.
It's a pleasant afternoon to walk through the winding paths and see the various different sculptures and monuments, as well as popping in to one the contemporary art museums on the grounds. Here one can find a vast selection of contemporary masterpieces that are the latest and greatest of the art scene.
4. Football is certainly a national obsession and pastime in Brazil, and it's best to pay homage to the sport whilst in São Paulo.
The Museo de Futebol can be found at Pacaembu Stadium. With its photos, memorabilia, interactive exhibits, and historical documentaries, sports-fans and non sports-fan can celebrate and educate themselves about this cherished sport. Throughout the development of Brazil, football has always been there to excite and entertain the population.
5. São Paulo is culturally progressive in many ways, but one area where it dominates is the performing arts.
With over one hundred and fifty theaters in the city, one can surely find a vast array of dance, music, theater, and performance art. Seeing a show in the city is common on the weekends, and weekdays as well. From traditional performances to more modern productions, the choices can sometimes seem overwhelming.
6. Not only is live performance of such value in Sao Paolo, but there is also a wealth of art museums to choose from.
Some great spots to visit include the Museu de Arte de Sao Paolo, as well as the Museu de Arte Moderna, and the Pinacoteca de Estado Instituto Tomio Ohtake. With classics and contemporary pieces on display from Brazilian artists and artists around the world, these museums are treasured by the people of Sao Paulo.
7. São Paulo is famous for its rich and flavourful coffee, and it's a great idea to sample as many varieties as you can when in the city.
Brazil just happens to be the largest producer of coffee in the whole world, so it's guaranteed that there are a number of varieties and flavours to choose from. Whether venturing into a local cafe or an upscale barista, the quality of the coffee is unsurpassable.
8. Whether one is hungering for street food or haute cuisine, the food of São Paulo is diverse and delicious.
Over 52 countries are represented in the city with their own culinary traditions, and it's a city that loves to eat. Wine is also plentiful in the gastronomy of the city. Terraco Italia has the most impressive wine list in town, as well as a stunning 360 degree view of the city. Pizza is a favourite in São Paulo, and most are surprised to learn that it comes in second only to New York City in terms of pizza consumption. Walk through the fruit stands of the Mercado Municipal to check out the rare varieties, and be sure to pick up a "sanduiche de mortadela".
9. São Paulo has about 45 shopping malls and 59 various shopping promenades.
Some of the most popular in the city are Oscar Freire and 25 de Marco. Be ready to run into some big crowds as shopping may be considered a national sport that is almost equal to football.
10. Luxury is synonymous with São Paulo. In fact, Oscar Freire Street is one of the top luxury streets in the entire world.
There are a number of quite wealthy Latin American families who have homes in the city, and because of this there is a richness on the streets that is stunning to behold. Whether successful businessmen or Brazil's old money, one can find some pretty expensive addresses and tastes.
Recommended articles
DIY Recipes: How to make Ga kenkey with sauce and fried fish
10 trending kente styles that took over the 'gram in February
For couples: 5 best tips to have better sex and intimacy
Chatrooms and how they may be the most fun, or most dangerous places
4 common foods that are healthy for the skin
For women: 3 common infections you could contract during menstruation, remedies
DIY Recipes: How to make rice porridge
Penelope Adinku: Meet Ghanaian female surgeon who just set an incredible feat
Pull-out method during sex? Here's how it may fail, risks