The Video-on-Demand HUB
Any hub of movies, TV series, music videos and documentaries will attract heavy traffic and generate thousands of dollars in revenue per day.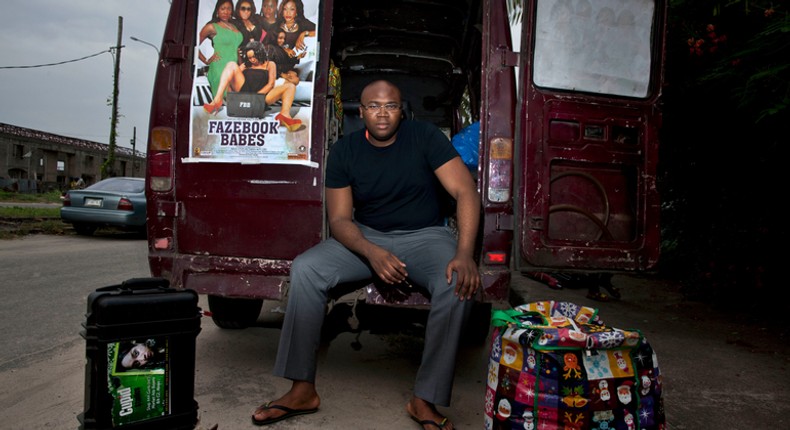 For many users in Nigeria, the allure of data subscriptions is in access to social networks, such as Facebook, and the ability to source news (especially football news) and visual content.
Any hub of movies, TV series, music videos and documentaries will attract heavy traffic and generate thousands of dollars in revenue per day. And this is precisely what iROKOtv is transitioning into: a hub for Video on Demand (VOD) content on the continent and in the diaspora.
In December 2016, iRokotv decided to tackle the problem of high data prices in Nigeria with its Beyond Data initiative. Branded kiosks were placed in strategic locations around Lagos to aid customer experience and provide subscribers with Data-free downloads. Files can now be shared from agent to customer, and from customer to customer using Wifi Direct technology. A kiosk-finder feature was integrated into the iRoko tv app to ease locating of the kiosks.
"The #1 challenge for our community in Lagos (Nigeria and Africa) has been the data burden. It's a mighty ol' tax which, after the thousands of conversations we have had with customers over the last few years, is something we needed to overcome. Our very future depended on it." Njoku wrote on his blog.
Dubbed the 'Netflix of Africa', iROKOtv sponsors TV series like FESTAC Town, Husbands of Lagos, Cougars, and Single Ladies, and several movies, through ROK Studios, the company's production arm. Njoku's wife Mary Remmy-Njoku, head of the studio and a budding Nollywood actress and producer, stars in many of them.
iRokotv also launched two TV Channels on DTH (Direct-to-Home) channel StarTimes. The channels are both structured to appeal to different audiences – iRoko 1 for premium and contemporary content, and iRoko 2 for traditional Nollywood content.
"The world of DTH broadcasting is a whole new arena for us and it's taken a huge amount of work to get there, so we're massively excited about it and we'll be looking to increase our reach across the PayTV market in Africa in the coming months," Njoku says.
Regardless of this diversification, an expansion into the hardware market (as Amazon did with Kindle devices) is not on the agenda - the focus is still on content distribution. His team is forever gathering new content, watching everything that comes onto the market, but purchasing licenses for "about 12% of the movies they see, because we purchase only the best movies". Is all this sustainable? If it isn't, how long will it take before the iroko tree falls? The company is yet to break even, and the belief in some quarters is the company is simply building up enough hype to muster an initial public offering.
Njoku is stylishly evasive as he explains, with a bit of optimism: "What we are attempting to build with iROKOtv has no blueprint, so it is time and money-intensive. With this in mind, we hope to be profitable by 2020, if we keep following the aggressive growth trajectory we have set ourselves."
If there has been any offers for a merger or acquisition, he is quite cryptic about them. "Ah, I am unable to disclose that sort of information," he says. "We're a hot company and we've done well in our first few years, but we've got a very long way to go in terms of making the sort of dent in the African entertainment industry that we want."
7 years after it was founded, iRokotv is not yet in profit. They're denting wallets, too, even if Njoku tries to downplay it. "We're seeing an upward growth in our figures, and we're pleased with how our numbers are doing."
Early this year, Njoku's co-founder, Bastian Gotter left the company to follow his passion of investing in and growing start-ups in Africa. On Gotter's exit, Njoku said, "Iroko would not be the company it is today, without Bastian's seed investment and faith in me to 'figure out Nollywood'.
In 2010, Bastian put his money where my mouth was, and together we embarked on the huge adventure of building an African entertainment brand that has changed the face of media consumption on the continent forever.
This is no small feat. He was a valuable member of the team, but it was the right time for him to move onto the next stage of his career - he has a wealth of insight into the African tech ecosystem, and a super-impressive track record for investing. He was part of the team that chose his successor, Lauren Miller, Iroko's new CFO."
JOIN OUR PULSE COMMUNITY!
Recommended articles
5 powerful relationship advice that can change your love life forever
5 natural ways to remove black spots at home
5 signs he feels guilty for hurting you
Anal itching: Here are its causes and how to treat it
DIY Recipes: How to make Nkatiekonto (Groundnut soup with greens)
For women: 5 ways to ease sex pain before periods
Dear men, here are 6 erogenous zones of women you must know
Microblading eyebrows? 5 risks associated with the act
Budweiser, the "King of beers" is here