Best man replaces bride in unusual photos
What do you do when the bride-to-be misses the engagement pictures? Call the best man, of course!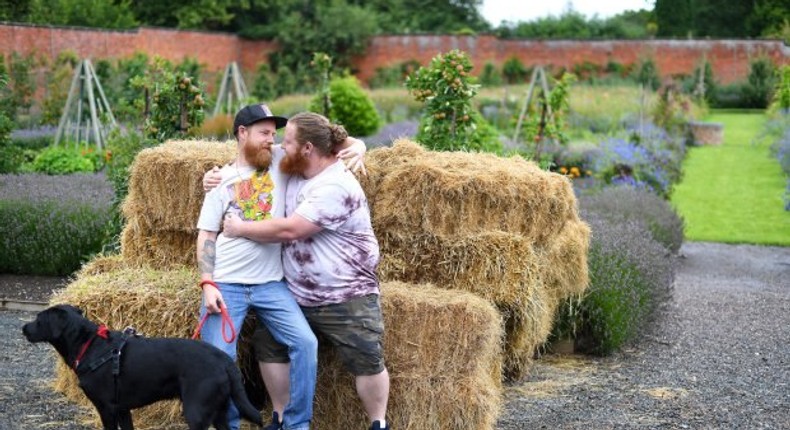 This groom will have his pre-wedding photos, whether his bride shows up or not.
When British bride, Devon Bickerton somehow missed her pre-wedding pictures, the photographer, Chris Preach and groom, Alistair Yeo found an alternative in the best man, and the resulting photos are a mix of weird and ridiculous.
Apparently, the bride had no idea that the photographer had plans for them on the day.
"[Devon] didn't realise that I like to take some pre-wedding photographs to get an idea of the venue and how the groom and bride react to being photographed."
"As she was unavailable I asked the groomsman, Adam Green, to step in as a joke, to which they both loved," explains the photographer.
The groom and his best man have been friends since high school and saw it as one of the inside jokes they've built over the years.
"We have all been friends since high school so we thought it was just a joke, we had no idea people on Reddit and the rest of the Internet would like the pictures so much!" he adds.
Even the bride was just as amused as everyone else when she saw the photo
"When I got home and showed Devon she just burst out laughing and we've have had a right giggle about them since."
As beautiful and perfect as weddings usually are, there are occasional misses as this one to remind everyone that beauty is not just in perfection, but also in weirdness.
JOIN OUR PULSE COMMUNITY!
Recommended articles
Diana Hamilton radiates beauty and style in stunning 43rd birthday photos
How does sex change after cheating?
5 lesser-known erogenous zones for men
Skincare secrets: How to clean your makeup properly
Best celebrity pictures on Instagram this week
Here's what to do when a guy won't take no for an answer
DIY Recipes: How to make Peanut butter cookies
All the major events happening in Accra this December
Seduction: Women, easy and effective tips on how to do it right and make your man wanting more