Ex-England international says he tried to stop his brother from coming out as gay
John Fashanu's brother publicly declare as gay in 1990, becoming the first English professional footballers to do that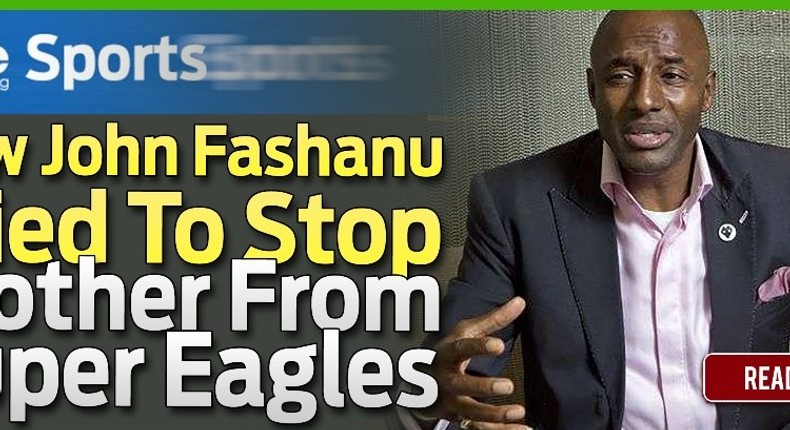 Ex-England international John Fashanu tried to stop his brother, Justin from coming out as gay.
Justin publicly declare as gay in 1990, becoming the first and one of only two English professional footballers to do that.
He committed suicide eight years later in 1988 while facing charges of sexual assault in the United States.
Homosexuality in football has been in the news of recent after a report by Daily Mirror revealed that two English Premier League players are about to come public as gays.
John Fashanu has now revealed the extent he went to stop his brother from out as gay.
The former Wimbledon striker admitted that he paid his younger brother £75K to keep quiet about it.
"I begged him, I threatened him, I did everything I could possibly do to try and stop him coming out," Fashanu said in an interview with Daily Mirror.
"I gave him the money because I didn't want the embarrassment for me or my family. Had he come out now, it would be a different ball game.
"There wouldn't be an issue, but there was then. Things are different now. Now he'd be hailed a hero."
Fashanu opened up about the stress his brother caused his family by publicly coming out as gay.
"For me and my family it was like Hiroshima or Nagasaki on our lives. It knocked us dead, it was a total shock," Fashanu said.
"I give him credit for having the courage to come out and say it. But it caused a lot of confusion and animosity towards him, me, and my family.
"During matches, 30, 40, sometimes 45,000 supporters sang at me: 'You're big... you're black... your a*** is up for grabs... Fashanu... Fashanu'.
"As a result of him saying what he said, my mother died because of the stress. She actually died a year later on the day of his birthday.
"She was already old, very fragile and suffering cancer. Then to be told her second eldest son was a homosexual was too much."
Years later, Fashanu has regrets how he tried to stop his brother from coming out as gay and revealed that he would have supported him back then.
"I've never spoken about these things before because I was stamped a homophobe. But things have changed and I make it very clear: I was wrong," the one-time Crystal Place striker said.
" It was ignorance on my behalf. I didn't understand him. I was trying to protect my family and I was worried about the effect on my career. In the process I lost my brother and I am very sad about that.
JOIN OUR PULSE COMMUNITY!
Recommended articles
Fake soldier arrested at Burma Camp while trying to fly military plane to Tamale
Driver sentenced to 2 years imprisonment after trying to bribe police officer with GHC 5
4 things in a relationship that must be kept a secret
'It's crazy!' – Rooney reacts to Ghanaian MP mocking Harry Maguire
Volta Regional NPP Secretary marries Deputy Women's Organiser in beautiful ceremony [Photos]
We're going to put our lives on the line against Ghana – Luis Suarez warns
'Better than Messi' – Ghanaians react to Afriyie Barnieh's performance against Switzerland
How to get your crush without shooting your shot
You can laugh at us but you didn't see a quarter of Qatar – Dumelo mocks Nigerians