9 die in fatal accident on Accra-Kumasi highway
At least nine (9) persons have been confirmed dead in a fatal accident at the Birimso section of the road close to Bunso junction along the Accra to Kumasi highway.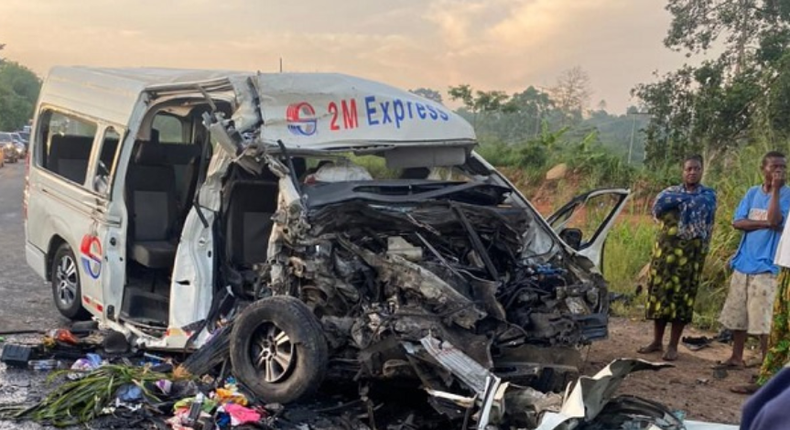 About 19 others have also been seriously injured in the accident.
The sad incident happened when two Toyota Hiace mini-buses belonging to 2M Express Company Limited crashed.
The two buses with registration numbers GN 3229-21 and GN 8292-20 had about 28 passengers on board.
The accident occurred Sunday, March 26, 2022, at about 3:30 am.
An eyewitness narrating the incident said the vehicle from Accra while trying to swerve a container that had fallen onto the road off a trailer slammed into the other vehicle heading towards Accra from the Kumasi direction.
Some victims trapped in the cars were extricated and were sent to Kibi Government Hospital and Hawa Memorial Saviour Hospital at Kyebi and Osiem for treatment.
Road traffic crashes remain a major public health and development challenges in Ghana.
Recommended articles
Nogokpo traditional leaders give Agyinasare 14-day ultimatum to appear for questioning
Akufo-Addo must declare a state of emergency over Ghana's economy – Kwame Pianim
Retired teacher ordered to pay 2k fine, sheep… for trying to sleep with friend's wife
Nana Addo receives highest international diplomacy award
Let's work together for peace in Bawku — Bawumia
Mahama has the ability to tackle Ghana's economic challenges — Stan Dogbe
Let's try and co-exist peacefully – Mahama to Gonja and Mamprusi communities
It's unconstitutional for chiefs to endorse political parties — Supreme Court
Ghanaian man slaughters wife over funeral contribution after her father's burial