Kwesi Pratt mocks Bawumia for digitising school feeding programme
The Managing Editor of the Insight newspaper, Kwesi Pratt Jnr has added his voice to the challenges caterers currently face over the School Feeding Programme in the country.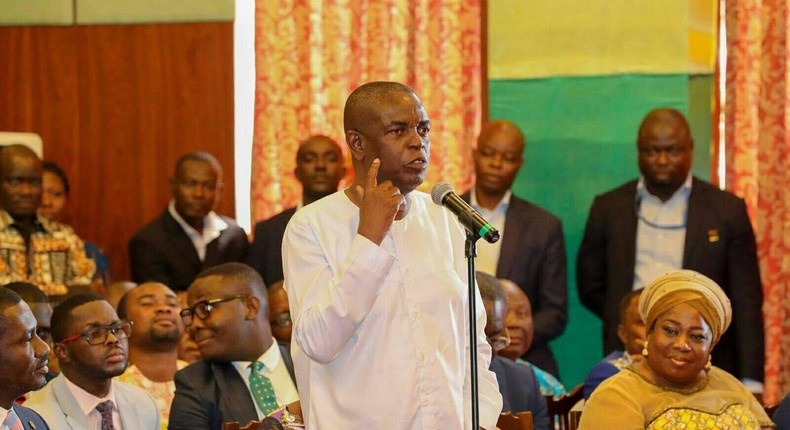 He has taken swipe at Vice President Dr. Mahamudu Bawumia over the programme.
To combat corruption and improve the implementation of the School Feeding Programme, Dr. Bawumia announced plans to digitize the initiative.
The upcoming digital initiative dubbed "e-feeding" aims to monitor the meals provided to students in real-time, ensuring the quality of meals and preventing fraudulent claims.
Speaking at the 70th-anniversary celebration of Fijai Senior High School in Takoradi, Dr. Bawumia emphasized that the digital system would effectively address issues such as corruption and the existence of "ghost schools and ghost children."
He expressed confidence that the digitization of the program would eliminate opportunities for embezzlement and enhance transparency.
Kwesi Pratt reacting to the challenges said the caterers under the programme are suffering but Dr. Bawumia is going around promising to digitalise the programme.
Speaking on Metro TV's Good Morning Ghana on Wednesday, June 7, 2023, Kwesi Pratt said he is disappointed at the kind of food that Ghanaian students are being fed under the programme.
He said "I don't know why we should be worried about the school feeding programme. The solution has been provided already… You didn't hear the vice president, he is going to digitalise the School Feeding Programme.
"The vice president found the solution a long time ago, digitalisation. For every problem digitalisation."
The veteran journalist added: "Look at the video being played this is the food the children are being fed. Look at the soup. All of us if our children are being fed with this would we be happy?... even prisoners don't eat like this."
Meanwhile, Mrs Lariba Zuweira Abudu, Minister of Gender, Children and Social Protection, has appealed to the Caterers of the Ghana School Feeding Programme to call off their strike.
She said they would receive the payments of their arrears for the third term of the 2022 academic year within the week.
Recommended articles
#OccupyBoG: Demonstration scheduled for Tuesday, court rejects police request
122,275 personnel for 2023/2024 deployed for service -NSS
Tensions flare as Ghanaians in London stage dueling protests over bad governance
Kufuor raises concerns over factionalism within NPP
Jean Mensa, Bossman Asare pose biggest threat to Ghana's democracy – Sam George
Election 2024: Reject Alan's empty political tactics — NDC's Afaglo
Health Ministry summons management of Korle-Bu over GH¢765 cost of dialysis
Korle-Bu to review GH¢765 cost of renal dialysis
Factionalism is dividing and killing commitment in the NPP – President Kufour