Buipe floods: Bui Dam spillage renders 1,500 residents homeless
About 1,500 residents in Buipe located in the Central Gonja District of the Savannah Region have been rendered homeless as a result of spillage of the Bui Dam.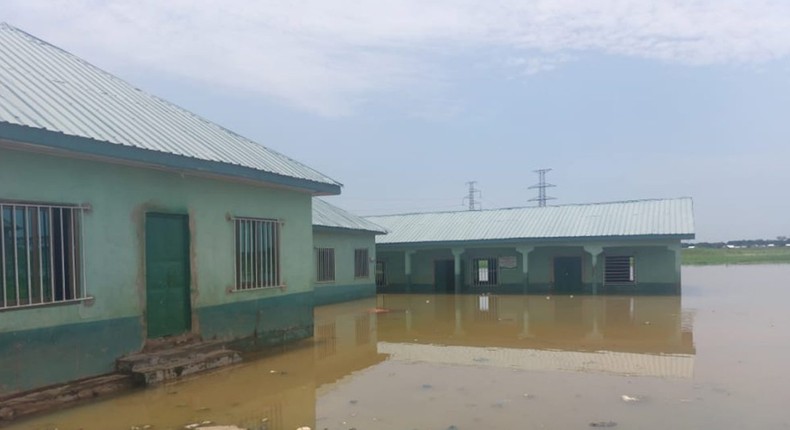 The residents involving women and children from 500 households, were displaced by floodwaters.
The spillage is to bring the water level in the dam to an acceptable level and safeguard the dam from being damaged by rising waters in the dam as a result of heavy rainfall.
The Central Gonja office of the National Disaster Management Organization (NADMO), said 239 adult males and 230 adult females, in addition to 348 boys and 427 girls, have been compelled to evacuate their homes.
Some residents said water has flooded their compounds and rooms and they are compelled to move their belongings to higher grounds for safety.
The Central Gonja District Director of NADMO, Mohammed Mustapha accused the management of the Bui Dam of negligence for failing to notify the affected communities.
In an interview with Myjoyonline, he said: "Period to this water spillage this season, they [management of Bui dam] told us that they would come because their water level was still high and so, we should prepare a budget for us to use seven days to sensitize the people around the river banks."
"Yes, so, Buipe, Banda, Bole, and Kintampo North NADMO Directors, did collaborate and submit the budget to Bui Dam as requested.
"But after submission, they failed to turn up or communicate to us again until we began seeing the water coming into people's houses and farmlands. So, it's a failure on Bui Dam for not living by their words," he added.
JOIN OUR PULSE COMMUNITY!
Recommended articles
COP28: AFRIWOCC, UNDP partner to sponsor young Africans to the UN climate conference in Dubai
U/E: Farmers weep as bags of rice left to waste at Builsa
Prof. Kobby Mensah expresses fatigue in NPP with too many elections in a short period
Self-service check-in at Kotoka International Airport begins
NPP Primaries: Delegates raise alarm over alleged foreign voters
Late Akoto Ampaw to be laid in state on December 15
Charity Akortia, 57, adjudged 2023 National Best Farmer Award
NPP to elect parliamentary aspirants in orphan constituencies today
Financial Analyst Sydney Casely-Hayford dead