LGBTQ+ is a human rights issue — Kamala Harris tells Ghanaians
Vice President of the United States of America, Kamala Harris, has added her voice to the debate over the passage of the Proper Human Sexual Rights and Ghanaian Family Values Bill 2021 currently before Parliament to criminalize the activities of Lesbians, Gays, Bisexual, Transgender, Queer (LGBTQ+) in Ghana.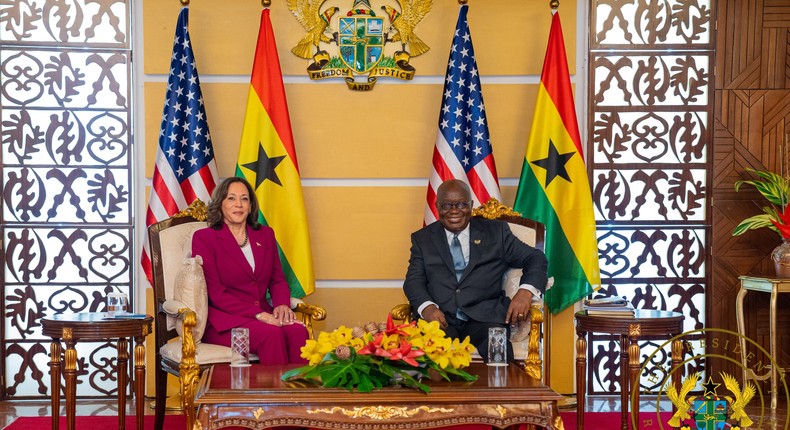 According to her, the anti-LGBTQI+ bill since it is an affront to the minority group in the country.
The anti-LGBTQ bill, titled, "The Promotion of Proper Human Sexual Rights and Ghanaian Family Values Bill 2021", was submitted to Parliament in June 2021.
The bill, among others, seeks to make it a crime to be LGBTQ+ or to advocate LGBTQ+ rights. Offenders could face jail terms.
The submission of the bill to Parliament elicited a major public debate over its appropriateness.
Kamala Harris adding her voice to the activities of LGBTQI+ persons said it bordered on human rights.
Reacting to a question posed to her at the seat of government in Accra, she said every person has the right to live as he or she wants.
"Let me be clear about where we stand. First of all, for the American press who are here, you know that a great deal of work in my career has been to address human rights issues and equality issues across the board including those related to the LGBT community.
"And I feel very strongly about the importance of supporting the freedom and supporting and fighting for equality among all people and that all people be treated equally," she stated.
She added: "I will also say that this is an issue that we consider and I consider to be a human rights issue and that will not change."
Meanwhile, President Nana Addo Dankwa Akufo-Addo said Ghana currently doesn't have any law that criminalizes the activities of LGBTQ+ persons.
Recommended articles
Akufo-Addo's government is the worst ever in Ghana's history – KKD
Most of the MPs endorsing Dr. Bawumia are doing it out of hunger – Hopeson Adorye
Road constructions begin in Assin North a day after EC announced by-election date
Be patient with us we'll pay your coupons – Dep. Finance Minister to bondholders
2 villages burnt to ashes as Mamprusi and Gonja tribes clash (photos)
'I dare him' – Curvy journalist says as 'desperate' man offers to give 58 cows to have her
God should not punish Ghana with a leader like Dr. Bawumia – CPP Comms Director
Indian official pumps water out of entire dam to get Samsung phone which fell during selfie
Doctor loses job after prescribing ice cream and video games to boy who had a sore throat