NaBCo recruits to demonstrate over unpaid allowances
Some Ghanaians employed under the Nation Builders Corps (NaBCo) who have not been paid will stage a nationwide demonstration over unpaid allowances.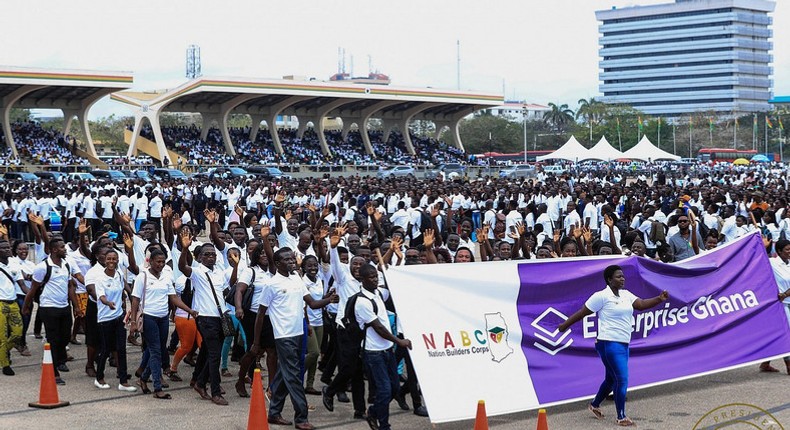 The beneficiaries of NaBCo said they will stage a protest to demand their allowances.
Months into the programme, the recruits have not been paid but the government claimed they have received their stipends regardless.
The recruits said they will demonstrate on 12 April 2019 to voice their displeasure.
The aggrieved beneficiaries in a communique dated April 6, under the name 'Coalition of NABCO trainees nationwide' called on its members to "tighten" their plans to demonstrate in order to "drum up support over unpaid stipends."
The disgruntled NaBCo recruits said they have worked in various fields for months without any allowance from the government.
The Coalition added that efforts to get the government to pay their arrears have proved futile, hence the planned demonstration.
"We want the programme to run smoothly with regular payment and not paying in bits. We go through a lot and cannot endure any longer. A nation builder without money how can we build the nation?" the NaBCo recruits quizzed.
Get our Top Stories delivered to your inbox
Recommended articles
9-day groom market where women go to buy bachelors
KKD's comments on Ken Ofori-Atta was misplaced – Adom-Otchere
Ghana's economy has collapsed due to Akufo-Addo's historic poor leadership – Sulemana
Where are the missing 500 missing excavators? — NDC's Prince Henry asks gov't
Ken Ofori-Atta must be arrested for the current economic mess – Arise Ghana
I have abiding faith in God to turn the fortunes of Ghana around — Nana Addo
KKD's comments on Ken Ofori-Atta were borne out of envy, jealousy – Adom-Otchere
Ethiopian Airlines flight misses landing as pilots fall asleep
EOCO denies Nigerian 'sakawa kingpin' Sunny Awamini on Interpol list bail