Railways Authority to demolish Asuma Banda Mosque and 300 other buildings — Report
About 300 buildings including the Asuma Banda Mosque in the Ayawaso West Wuogon constituency of Accra will be pulled down and render hundreds of people homeless.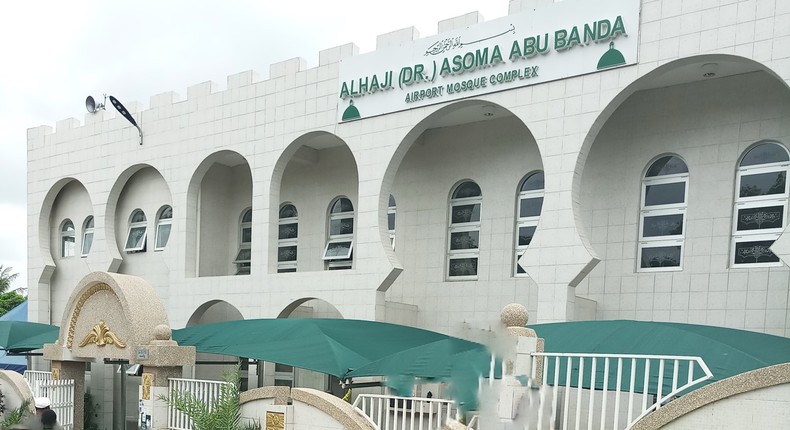 The move is to clear occupants of the land.
The demolition follows a notice issued by the Ghana Railway Development Authority (GRDA) ordering all occupants to leave the area.
Reports by the Insight newspaper indicated that the notice signed and issued on September 22, 2023, by Susana Delali Akosua Kudjoe, the Deputy Chief Executive, General Services at GRDA, for the Chief Executive Officer of the authority, said it was the final notice it was giving to the affected property owners.
The notice reads: "You are by this letter notified, and final notice is hereby given to you to vacate occupation of the said land by 30th September 2023.
"The consequences of your failure to comply with the order will not be in your interest, as there will be no further notice of our action."
The newspaper report added that the notice was distributed to over 300 occupants of the land, including caretakers of the Asuma Banda Mosque.
It said the demolition notice, however, had been issued without the consent of Yaw Owusu, Chief Executive Officer of GRDA, although it was issued on his behalf.
The report added: "What is worrying is that the Deputy CEO Susana Delali Akosua Kudjoe, who is hell-bent on carrying out the demolition exercise with the support of one Edem Danku, Deputy Director, Estate and Commercial Unit of the Authority, is alleged to have ignored attempts by the Member of Parliament (MP) for Ayawaso West Wuogon, Lydia Alhassan, to have the exercise shelved entirely because of the repercussions it will have, not only on the political fortunes of the ruling New Patriotic Party (NPP) but the livelihoods of over 1,000 residents on the railway land stretch.
"Already, one Daasebre Dr. Asumadu Nyarko Appiah, Chief of Akyem Wenchi and Oseawuomanhene of Akyem Abuakwa Traditional in the Eastern Region recently laid claim to all the railway lands on that stretch claiming that the Ghana Railway Development Authority sold all that stretch of land to him despite the occupants also claiming to have a 50-year lease agreement with the authority."
Initial attempts by Daasebre Dr. Asumadu Nyarko Appiah to evict the occupants with an eviction notice and threat of legal action brewed tension in the area compelling him to resort to the law courts for redress.
Even though the matter is in court, the latest move by the deputy CEO is said to be orchestrated and if successful, to pave the way for the chief to take over the state land on that stretch of the Nyaho Hospital area.
JOIN OUR PULSE COMMUNITY!
Recommended articles
Galamsey activities caused the delay in executing railway projects — Amewu
NPP 2020 parliamentary candidate resigns from the party
National Cathedral will bring in millions in revenue— Ofori-Atta
It's not true that Winneba's Ramsar site has been sold for mining – Afenyo-Markin
Ghana can turn into the new Jerusalem with the National Cathedral – Ofori-Atta
YouTuber jailed for 6 months after deliberately crashing plane for views
Catholic priests should be castrated to stop paedophilia, sodomy, rape – Bridget Otoo
How Ghanaian solo armed robber, 'School Fees' entered victim's house with ladder [Video]
Aisha Huang's sentence was on crimes committed in 2015 -Deputy Attorney General