Will Gandhi fall in Accra?
With the slogans 'Gandhi Must Fall' and 'Gandhi For Come Down' agitators are calling for the immediate withdrawal of a statue of Mahatma Gandhi at the University of Ghana because they do not believe Gandhi is worth celebrating and emulating.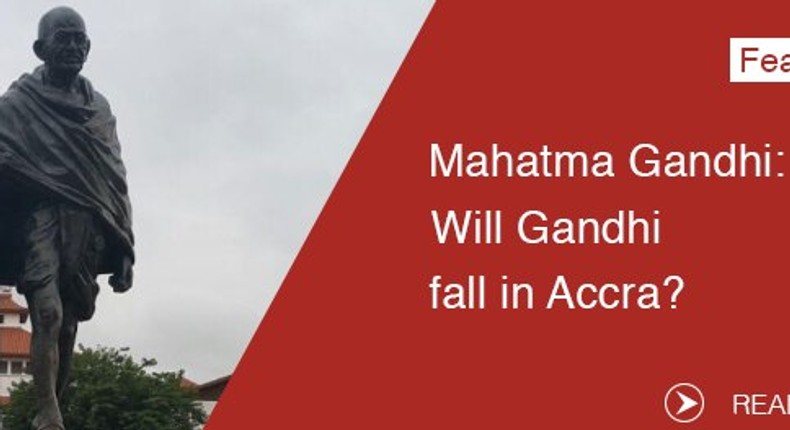 On a recent state visit to the country, India's president Pranab Mukherjee made a stopover at the University of Ghana.
He delivered an address about the cooperation between his country and Ghana in the area of youth development and education. The trip had been largely uneventful until that visit to the university.
That is because, after the address, Mukherjee unveiled a statue of Mohandas Karamchand; widely known as Mahatma Gandhi; India's independence hero.
The statue is on the Accra campus, at the Institute of Statistical, Social and Economic Research.
This has led to agitations from many students, alumni and ordinary Ghanaians who have expressed dissatisfaction.
With the slogans 'Gandhi Must Fall' and 'Gandhi For Come Down' (pidgin for Gandhi must come down), the agitators are calling for the immediate withdrawal of the statue because they do not believe Gandhi is worth celebrating and emulating.
It is inspired by the Rhodes Must Fall movement started by South African students and led to the felling of the statues of many colonialists and apartheid supporters including that of Cecil Rhodes on the campus of the University of Cape Town in 2015. There has since been efforts to get Rhodes' statue at Oxford University; where his estate left behind large sums of money to be used as scholarships, also downed.
But why has Gandhi's life proven so controversial?
In a blogpost, a student at the university, Kofi Opare Hagan, said '…he (Gandhi) believed Indians across the country were equal to one another – in the eyes of their creator- and equal to their British colonial masters; but his charity didn't extend to blacks.
Gandhi was an unrepentant racist whose low and contemptuous view of blacks is well documented, both by himself and by historians".
Campaigners cite quotes from Gandhi made during his two decade life in South Africa. In 2015, two South African academics published a book that explored Gandhi's life in the country.
Goolam Vahed and Ashwin Desei argued that during the lawyer's time in southern Africa, he was satisfied with the treatment of black Africans but could not understand why Indians were treated the same. He argued for improved rights for Indians because they were better than the kaffirs; a derogatory term to refer to black people.
Quotes attributed to Gandhi
"It was a gross injustice to seek to place Indians in the same class as the Kaffirs." - May 22, 1906
"Ours is one continual struggle against a degradation sought to be inflicted upon us by the Europeans, who desire to degrade us to the level of the raw Kaffir whose occupation is hunting, and whose sole ambition is to collect a certain number of cattle to buy a wife with and, then, pass his life in indolence and nakedness." - Sept. 26, 1896
"Your Petitioner has seen the Location intended to be used by the Indians. It would place them, who are undoubtedly infinitely superior to the Kaffirs, in close proximity to the latter." - Before May 27, 1899
These quotes challenge the dominant Indian historiography of Gandhi which depict him as an icon of tolerance and nonviolence.
Gandhi's statues around the world have been controversial. In 2015, the bronze statue in Johannesburg was defaced with white paint.
The importance of statues?
Statues are important aspects of history and serve as a way of commemorating an individual deemed to have done great things. Like symbols such as street names and buildings, they immortalise an individual and his achievements.
The university's response
Pulse News reached the University for a comment on the concerns raised by Hagan. Its public relations officer agreed to an interview but did not respond to numerous calls at the agreed time. We also reached the Indian High Commission for a comment and were told there was nobody to speak to.
While it is highly unlikely that the Gandhi statue will go, agitations about it is expected to continue. This is because the statue was unveiled in June while many students are on vacation and is expected to be of major discussion when the new academic year begins.
Recommended articles
EC registers over 673,000 new voters in limited registration exercise
Akufo-Addo's govt is planning to sell NIB and ADB to its cronies - Minority alleges
We're looking at using electric vehicles for public transport soon - Bawumia
WAEC threatens to delay marking of BECE, WASSCE over unpaid GH33 million
We'll win the 2024 elections; stay focused – Bawumia charges NPP supporters
I will fight back if the NPP tries to discredit me – Alan Kyeremanten warns
Alan Kyerematen vows to defend his contributions to NPP amid resignation from party
Police leadership initiates outreach to St. John the Evangelist Catholic School
E/R NPP Chairman advocates party cohesion and applauds IGP's accomplishments