Today's Front Pages
Here are today's newspaper headlines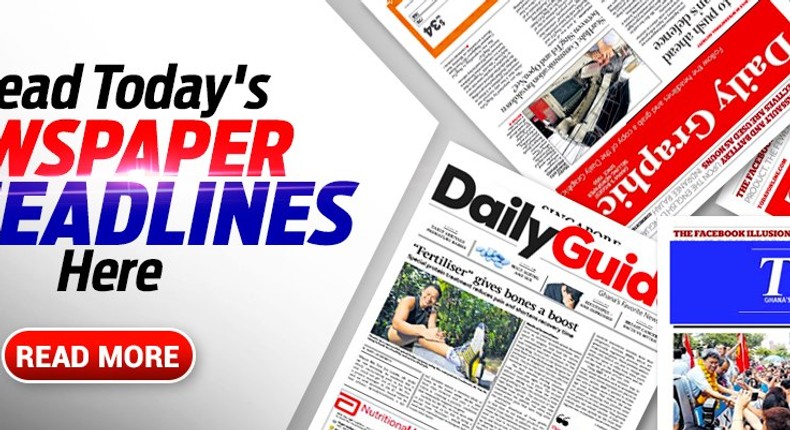 NEW FACES LACE BOOTS FOR NDC PARLIAMENTARY PRIMARIES
Various names are already making the rounds as potential parliamentary aspirants of the National Democratic Congress (NDC), two days to the opening of nominations for aspiring presidential and parliamentary candidates of the party for the 2016 general elections.
HIGH COURT TO RULE ON CHARLES ANTWI'S CONVICTION ON AUGUST 31
The Human Rights Court has set August 31, 2015 to give a ruling on an application filed by a human rights lawyer invoking the jurisdiction of the court to quash the conviction and sentence of Charles Antwi, the man who said he wanted to kill the President at a church in Accra.
JUDICIAL SERVICE INVESTIGATION AKYEM SWEDRU CIRCUIT COURT
The Judicial Service is investigating the conduct of the Akyem Swedru Circuit Court judge who  gave an order for a goat thief to be paraded on the streets of the town.
DOCTORS, GOVERNMENT RESUME TALKS
Negotiations between the Ghana medical Association (GMA) and the Ministries of Employment and Labour Relations and Health on the conditions of service for public sector doctors resumed Monday.
ALARM BLOWS GHANAIANS JOIN ISIS
Nazir Nortei Alema, a 25-year-old graduate of the Kwame Nkrumah University of Science and Technology (KNUST) has thrown his family into a health-threatening stress, as he joins the swelling ranks of the Islamic State in Iraq and Syria (ISIS), a terrorist organisation.
ECOBANK MANAGER SHOT DEAD
Operations manager of the Labone Branch of Ecobank, Seth Akyea has been shot dead.
An open display of political power at Alabar, a densely populated Muslim area in Kumasi, Sunday morning, has landed a top National Democratic Congress man in trouble.
LAW SCHOOL ADMISSION IS FLAWED – PROF ASARE
US-based Ghanaian law professor Stephen Kwaku Asare has said the process used in admitting candidates into the Professional Law Course is not transparent fair and rational.
GHANA LOSES $2.27BN ANNUALLY
It is estimated that Ghana loses around $2.27 billion every year in corporate tax activities granted multinational businesses.
3 ROBBERS KILL ECOBANK MANAGER
Operations Manager of the Labone Branch of Ecobank, Seth K. Akya was last Friday shot in the neck and killed by yet-to-be-identified gunmen, but his fiancée and one-and-half-old child escaped unhurt.
LOW TURNOUT AT K'BU, KATH AS DOCTORS RESUME WORK
Following the resumption of work by striking doctors of the Ghana Medical Association (GMA) Monday, patients are gradually returning to publicly funded hospitals in the country to receive medical care, Today can confirm.
GPHA CURES IMPORTERS HEADACHE
The Ghana Ports and Habours Authority has cut down cargo clearance procedures at the Tema Port in response to numerous complaints from importers that the current system was bureaucratic and costly to their operations.
SECURITY OF ELECTRONIC PAY PLATFORMS QUESTIONED
The Founder of e-Crime Bureau, Albert Antwi-Boasiako, has urged institutions and individuals to carry out security assessment of any electronic platform before deploying it.
APPETITE FOR FOREIGN DEBT UNHEALTHY – ANALYST
The country's economy has over the past decade seen an average of 7 percent GDP growth per annum largely on the back of foreign debt, a situation investment advisory firm InvestCorp says presents challenges to the economy
AIR TRAVEL HOLDS POTENTIAL DESPITE CEDI WOES
Depreciation of the cedi against major trading currencies is only a temporary situation and would not affect air travel in the long run, Henok Teferra, Chief Executive Officer of Asky Airlines has said.
Government should be communicating to investors in the power sector in a way that will attract rather than scare them away, especially in view of the large deficit in supply, Dr Mohammed Amin Adam of the African Centre for Energy Policy has said.
Recommended articles
I followed the rules, i did nothing unexpected - Alban Bagbin
Parliament passes three new taxes
MP for Nanton involved in accident ahead of passage of 3 new tax bills
We have to win the 2024 elections for Jerry John Rawlings – Dr. Kwabena Duffuor
Humanitarian Awards Ghana announces 100 Most Impactful 2022 Change Makers
Bank of Ghana debunks media reports of introducing GH¢500 coin
Pass the 3 tax bills in the interest of the nation – Ken Ofori-Atta 'begs' Parliament
15 students of St. Mary's Girls SHS are currently pregnant, headmistress cry
Free SHS is useless unless it is linked with skills development — Prof. Ato Essuman